I thought it would be easier to make the seals sing for me. My grandmother Mhairi used to sing to them in Stromness – and they would call back with plaintive moans that sounded so much like the gusts of wind that have long darkened the winters on islands like this. Tonight, however, the seals are silent and the waves are calling as the sun sets over the Atlantic and the Brough of Birsay.
From this sloping tidal island, Thorfinn the Mighty – the most feared of Norse raiders – ruled and fought his way through the north with a brutality that earned him the name Raven-Feeder (after the birds that fed on the corpses of his enemies). The St Magnus Way is not inspired by such bloodlust. Instead, it's dedicated to the Raven-Feeder's decidedly less violent grandson, Earl Magnus Erlendsson, who agreed to be murdered so the people of Orkney could have peace.
This 58-mile pilgrimage route runs north to south through the green heartland of the Orkney continent, roughly following the path taken by Magnus' body after his death. He had shared the county of Orkney with his cousin Haakon, a fierce man seized with one desire: to rule alone. When the pair sailed to Egilsay in 1117 to end their fighting and negotiate peace, Magnus was double-crossed – they had agreed to bring only two boats, but Haakon sailed with eight, all filled with warriors. Magnus saw his fate and sailed unarmed. He bowed his head under Haakon's tearful butcher's ax while praying for the soul of his executioner – seeing this as the only way to prevent an all-out war from devastating the lives of the people of Orkney.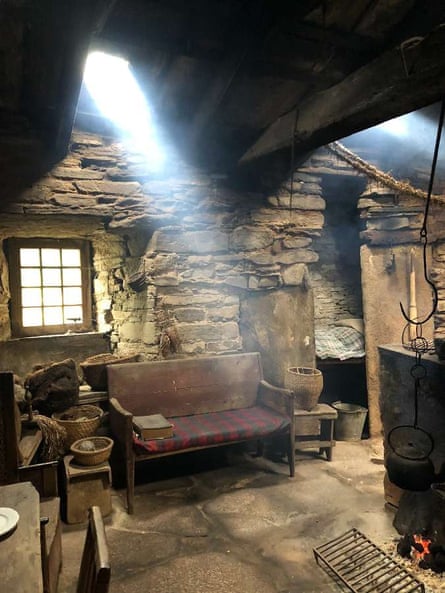 Magnus' body was buried at Birsay for around 20 years. Pilgrims came to pray and reported miracles. Then his remains were taken to the town of Kirkjuvágr (i.e. Kirkwall), where his relics remain in St Magnus Cathedral to this day.
After the first day's 12.5 mile trek over the dramatic cliffs from Evie to Birsay, hikers can stay at the Barony Hotel which offers double rooms from £90 B&B or Birsay Outdoor Center offers dorm beds and tent pitches from around £20. Birsay Bay Tearoom prepares soups and sandwiches using local produce. There's also great lemon cake and more at the daffodil-hued JP Orkney Honest Box, opposite the ruins of Earl's Palace.
In the morning, if your rucksack isn't too heavy, stop by Birsay Books for a second-hand copy of The Orkneyinga Saga, including George Mackay Brown's novel Magnus, which links the violence and sanctity of Nordic world to today. George was my great-uncle, and I particularly like how in this book he revealed the human in the saint.
As you head inland through quiet back roads to Dounby, watch gannets turn into starlings and the humpbacked hills of whales guide you. You may pass a few cyclists as you go (there is a St Magnus Way cycle path), but going slow has its advantages. Between the wool-speckled barbed wire fences, you'll spot countless hares and rabbits running through the fields and, if you're lucky, short-eared owls.
Everyone has their own reasons for wanting to spend time in the beautiful northern parts of the world. For some, it is the experience of calm. For others, it is to better understand the past. My great-uncle hoped to save the treasure for centuries before it disappeared. "It is as if the past were a great ship that has landed," he wrote, "and a writer must collect as much of the rich wasted cargo as he can." I seek out these places as a chance to observe fast moving skies and lose my inhibitions. I think I want the chance to experience my "primitive, mischief-loving troll who dances along the cliffs and writes pagan poetry." That's how George described a neighbor in Stromness who wore an almost 'ridiculously austere' mask in everyday life – but was wild inside, beyond the city limits.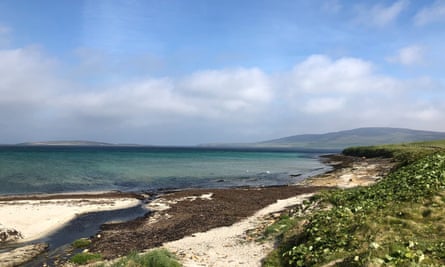 On this part of the journey, you might want to take a quick detour to the Kirbuster Farm Museum: it's Northern Europe's last unrestored example of a traditional 'firehoose', with a central turf hearth; it's home to North Ronaldsay sheep (a breed known for its seaweed diet) and the best milking buckets and briar brooms I've seen.
As you warm yourself by this fireplace, you may slip into romantic dreams of sleeping in this stone bed by the fire, and feel the magic of being surrounded by oil lamps and watching the stars pierce the night sky from the skylight above.. Hopefully keeper Neil Leask will walk in, point to this 'skylight' – actually a hole for peat smoke to escape – and say, "Oh yes, sometimes people would wake up in the morning to find that a foot of snow had drifted at their feet!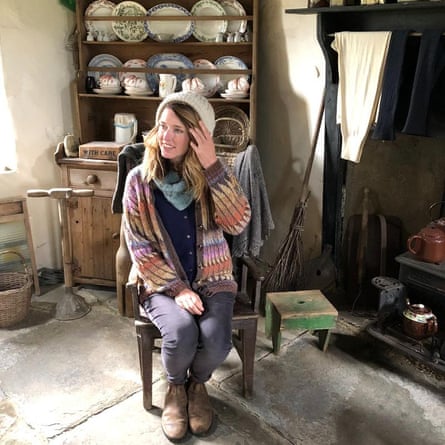 As you walk through the village of Dounby where you will find the first lighted shop with regular hours since you started your walk. Refuel at the Co-op, then head to the Smithfield Hotel (doubles from around £110 B&B) across the street to eat and sleep.
As you drive down quiet roads and into Finstown the next day, it's hard not to be drawn in by the sights of Hoy – its slopes catch the light like a glowing green iceberg. It's hard not to want to run west to Maeshowe – a 5,000-year-old chambered cairn where the Vikings took shelter from a blizzard over 800 years ago. Stocking up, they made carvings that bridge the distance between people past and present: "Ottarfila carved these runes." "Ingigerth is the prettiest." Their graffiti differs little from what my buddies and I used to Tippex on our school bags in Aberdeenshire. For some reason, that sounds moving.
Around the village of Harray you may start to notice signs pointing to the Creative Orkney Trail (if you end up heading to Harray Potter or the local wood turner's workshop in search of Neolithic-inspired bowls, you won't be the first). Then continue to Binscarth Woods – stepping into a wind-split tangle of beech and sycamore trees on a nearly treeless island is always special – before a night in the long, charming village of Finstown.
In the morning, stroll between fields that have turned gold and green with the seasons for centuries to Orphir Round Kirk, Scotland's only circular medieval church. It was here that Earl Haakon asked his trembling cook, Lifolf, to kill peace-seeking Magnus with an ax to the head, after which he ruled Orkney alone. He had everything he wanted, but according to the Orkneyinga saga, his conscience was troubled. He made a pilgrimage to the Holy Land, repenting. Inspired by the Church of the Holy Sepulcher in Jerusalem, he had this little church built.
I like to imagine Haakon here at Orphir in his post-murder years: a complex, deeply human man (the folks behind the Saint Magnus Way have themed this stage of the journey around forgiveness).
On the final leg of the St Magnus Way, Scapa Flow – a huge natural harbor rich in history – opens up like a big blue eye as you head towards Kirkwall and the imposing St Magnus Cathedral. Britain's northernmost cathedral, built in the 12th century, has seen pilgrims navigate ancient sea routes from Norway, Scotland and Ireland for years. But the Reformation ended the public worship of saints and miracles, and relics such as that of Magnus were hidden away for safekeeping (the bones of Magnus – thought to be gone forever – were accidentally discovered in 1919, inside a pillar of the cathedral).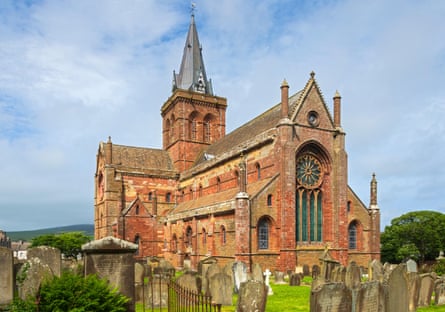 The beautiful sandstone pillars of the church stretch up to the vaulted ceiling, and I feel like I'm walking inside a petrified golden grove. I've never seen anything quite like the medieval tombstones that line the walls, carved with crossbones and skulls – memento mori after memento mori. The last time I went there, I tried to draw one: it represented a woman next to an hourglass and a skull. As I was drawing the crescent moon etched next to the right eye socket of the skull, a guard slipped up and asked me if I knew what he was doing there. I shook my head. He whispered, "They used to carve them so the souls of the dead could escape."
The Scandinavians also believed in souls. They believed that dwelling within each of us was the spirit of one of our wise female ancestors. A fylgja was a guardian who guided our steps and watched over us. It's a nice thought. It's also beautiful to think of a woman who sang to the seals. Beautiful too, heading into the last glimmers of evening light as the young people of Kirkwall ride into the winding winds of an ancient city. "Each step brings peace closer. Each breath is a new song. This is the motto of the St Magnus Way.
The free St Magnus Way app contains GPX, maps and stories. For For a longer journey, there is an option to start further north on the Isle of Egilsay, accessible by ferry from Tingwall near Evie.
Getting There NorthLink ferries run between Aberdeen and Kirkwall, and between Scrabster and Stromness. Pentland Ferry from Gills Bay (near John o'Groats) at St Margaret's Hope on South Ronaldsay