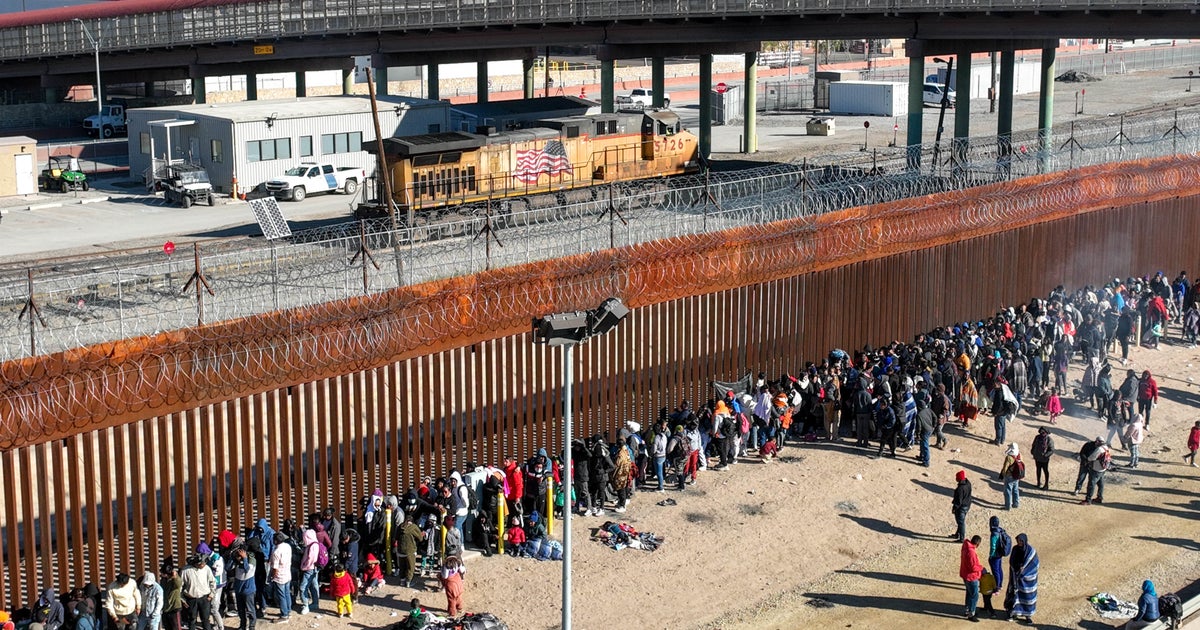 Federal officials are investigating a videotaped incident in which a Border Patrol agent knocked a migrant to the ground in El Paso, Texas, Customs and Border Protection said Saturday. In recent months, the border town has struggled to accommodate tens of thousands of migrants fleeing economic collapse, poverty and authoritarian rule.
Local volunteers in El Paso said the incident happened Friday morning outside a shelter housing newly arrived migrants. They said Border Patrol agents apprehended a migrant using "excessive force".
Surveillance video shared with CBS News appears to show a Border Patrol agent seeking to arrest a suspected migrant outside a building. After appearing to push the migrant near the building, the officer grabbed the migrant and tackled him to the ground, the video shows. The officer then appears to handcuff the migrant, who remains on the ground, while another officer observes the arrest.
The 38-second video, which shows bystanders observing the incident, does not show what led to the arrest or subsequent events.
In a statement, Customs and Border Protection confirmed that the video showed a Border Patrol agent making an arrest. The agency said its Office of Professional Responsibility is "reviewing the incident."
"While at this time we do not have full details of what happened during this incident, CBP takes all allegations of misconduct seriously, investigates thoroughly, and holds employees accountable when policies are violated," the agency said.
The volunteers said the incident was alarming.
"Today, an individual receiving services at the Welcome Center, located at 201 E. 9th Avenue, was apprehended outside the facility by Customs and Border Protection officers with what appears to us to be excessive force. To our knowledge, this is an isolated incident, however, it does raise our concerns for the well-being of the detainee and all guests receiving services under our homeless programs. said Ray Tullius, founder of the Opportunity Center for the Homeless, the group that shared the CCTV outside one of its shelters.
President Biden is expected to travel to El Paso on Sunday alongside Homeland Security Secretary Alejandro Mayorkas. Earlier in the week, Mr Biden unveiled a new strategy for reduce illegal border crossings deporting migrants from Cuba, Haiti and Nicaragua to Mexico if they seek to enter illegally through the southern border and allowing certain nationals of these countries to enter the United States legally if a person based in the United States United asked to sponsor them.
The incident outside the El Paso shelter also comes amid intensified Border Patrol efforts to apprehend migrants on the streets of the Texas border town who have evaded arrest. Hundreds of migrants sleep on city streets due to shelter depletion and because El Paso officials have barred migrants who escaped Border Patrol arrest from accessing funded housing by the federal government, including a convention center that now houses migrants.
Many of these migrants are Venezuelans who said they escaped detection, instead of turning themselves in to border officials, after entering the United States illegally because they feared deportation to Mexico.
Customs and Border Protection confirmed it has increased the number of Border Patrol agents patrolling El Paso in "response to migrants who evade arrest."
"CBP, which is responsible for securing the U.S. border between ports of entry, uses a multi-tiered approach that includes patrolling the border itself, nearby areas and neighborhoods, and conducting points controls – both fixed and temporary," the agency said in a statement.
But the incident under investigation may conflict with Biden administration policy that generally prohibits arrests of immigrants "in or near a location that would restrict people's access to services." or to engage in essential activities".
An October 2021 memo from Mayorkas directed CBP and Immigration and Customs Enforcement to refrain from apprehending migrants in or near these so-called "protected areas," which include shelters.
"We can accomplish our law enforcement mission without denying or limiting individuals' access to necessary medical care, children's access to their schools, displaced people's access to food and shelter, access people of faith to their places of worship, and more," Mayorkas wrote in the 2021 memo.