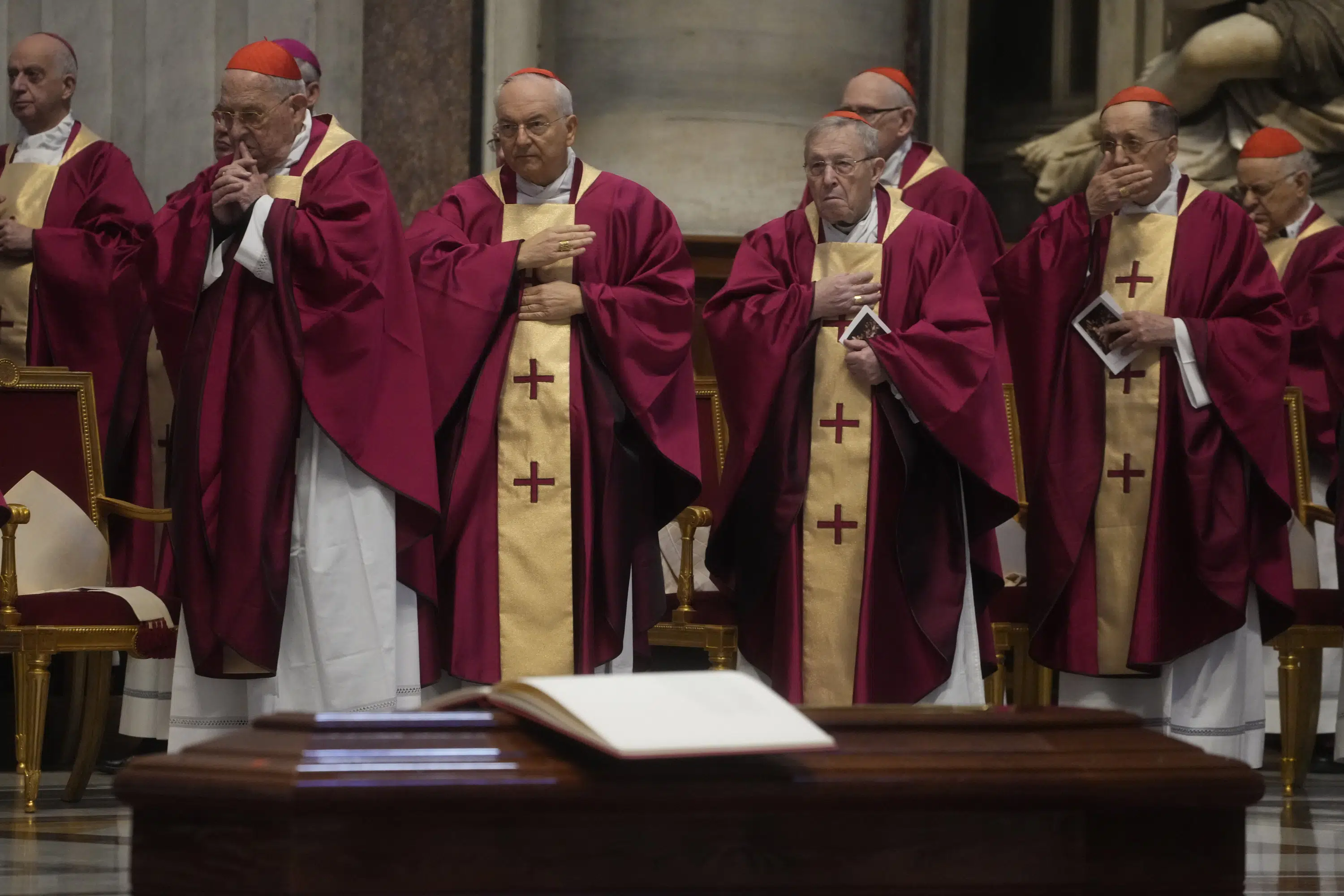 VATICAN CITY (AP) — The Australian cardinal who called Pope Francis' papacy a "disaster" received a funeral in St. Peter's Basilica on Saturday, with the pontiff giving a final blessing to the once-high-ranking Vatican prelate.
Cardinal George Pell, 81, died Jan. 10 shortly after undergoing hip surgery at a Rome hospital. As Vatican finance minister for three years, Pell had been a key player in the early years of Francis' papacy, whose goals included reforming the finances of the Holy See, which had a long history of scandals and mismanagement.
Pell then returned to his native Australia to stand trial for child sex abuse following allegations he molested two altar boys while he was Archbishop of Melbourne. He spent a year in solitary confinement before an earlier conviction was overturned in 2020.
As is customary for the funerals of cardinals, a final blessing, pronounced in Latin, in the form of a prayer of mercy and eternal rest, was recited by Pope Francis.
The funeral mass itself was celebrated by an Italian cardinal, Giovanni Battista Re, in his capacity as dean of the College of Cardinals.
Immediately after Pell's death, it was revealed that the Cardinal was the author of a memo that had been circulating for many months. In the memo, Pell had lamented that the current papacy is a "disaster" and a "catastrophe."
Separately, the day after Pell's death, a conservative magazine published what it called the cardinal's article denouncing as a "toxic nightmare" Francis' determination to sound out Catholic laity on issues such as teaching. of the church on sexuality and the role of women. These issues are expected to be hotly debated later this year at a meeting of bishops from around the world Francis is convening at the Vatican.
The day after Pell's death, Francis, in a telegram of condolences, paid tribute to the cardinal, saying that while the prelate led the office of the economy, "he laid the foundations with determination and wisdom" for the reforms of the financial system of the Holy See, which had been taken up with the task for years by the international financial watchdogs.
Among the concelebrants at the altar on Saturday was another high-level Vatican prelate who in recent days had lambasted Francis' leadership in the Roman Catholic Church. German Archbishop Georg Gaenswein – like Pell, a staunch defender of the more conservative faction of the Church hierarchy and a longtime aide to Pope Benedict XVI – has complained bitterly about the way he has been treated by Francis after Benedict retired in 2013 and Francis was elected pontiff.
Gaenswein unleashed a torrent of criticism of Francis in interviews hours after Benedict XVI died in retirement at the Vatican on December 31 and in a book published days later.