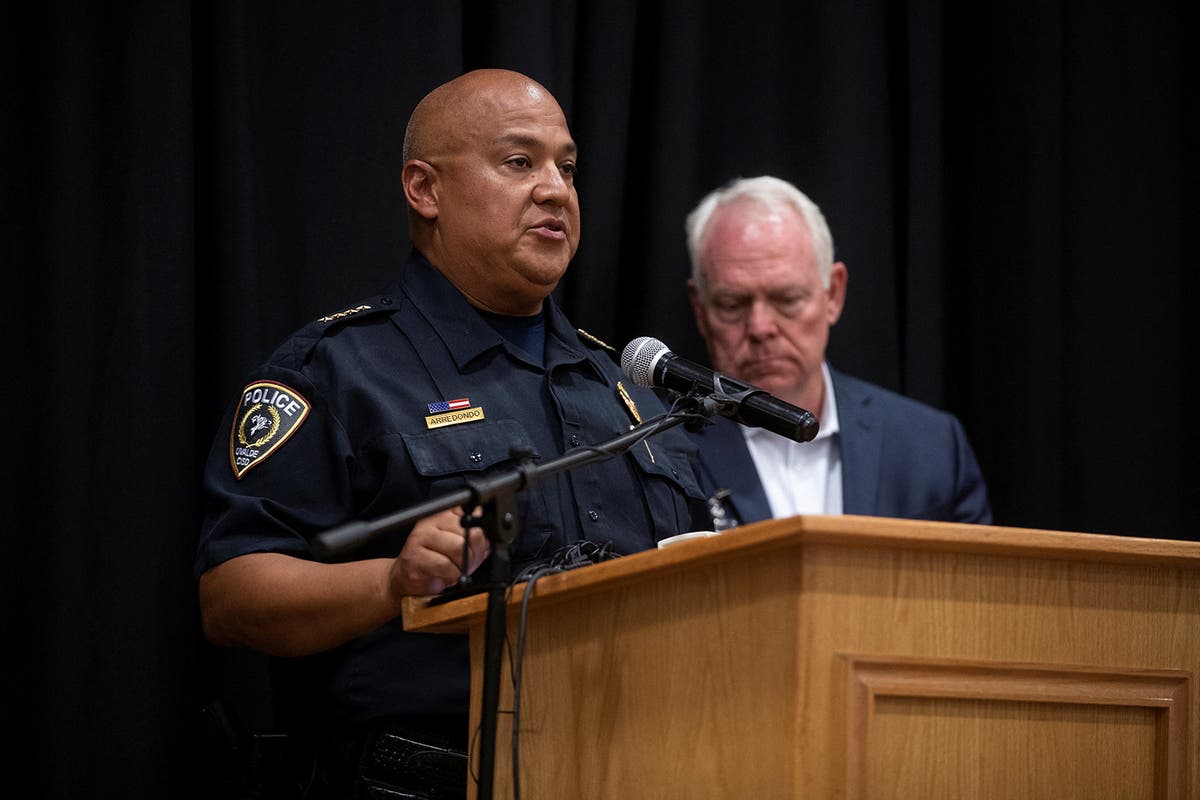 Former Uvalde Police Chief Pete Arredondo told state investigators the day after the mass shooting at Robb Elementary School last May that he prioritized protecting students from other classrooms instead of trying to face the shooter.
Mr. Arrendondo, who was fired from his role with the school district in August, made the comments to Texas Department of Public Safety (DPS) officials. This interview was recorded and obtained by CNN.
Mr. Arrendondo's decision not to confront the shooter who was in a primary school classroom baffled many observers and prompted an avalanche of criticism from various figures, including the director of the DPS. Law enforcement officers made no attempt to confront the gunman inside the classroom where he attacked students and teachers for over an hour, even though several officers were waiting in the hallway outside.
In the interview with DPS, Mr Arrendondo explained his thinking – telling investigators his priority was to keep the shooter "contained" and not endanger people in other rooms of the school building.
"Once I realized this was happening, my first thought is that we have to leave," Mr Arredondo said. "We locked it down – and I know it's awful and I know it's [what] our training tells us to do it but – we've contained it, there's probably going to be some deaths in there, but we don't need any more from here.
Mr. Arredondo stuck to his decision even as he believed he heard the shooter reload his gun and learned that injured children were trapped in a classroom with him. Mr. Arrendondo did not comment on the CNN story.
21 people, including 19 students and two teachers, were killed in the shooting. Of these, at least three were still alive the entire time the shooter was in the classroom.
Mr. Arrendondo's response did not follow police protocol. Active shooter training, which CNN reports Mr. Arrendondo has completed three times, urges responders to "isolate, distract and incapacitate" the attacker.
"First responders at the active shooter scene will generally be required to put themselves in harm's way and display unusual acts of courage to save innocent people," advises Mr. Arrendondo's training course.
But this is not what Mr. Arrendondo did, either as one of the first officers on the scene or as a commander. He instead called for more officers armed with assault rifles to surround the school, even as armed officers stood inside waiting to confront the shooter.
CNN reported that Arrendondo was not interviewed during the interview with the DPS who was commanding the law enforcement response. Mr Arrendondo later said he did not see himself as the commander during the shooting, although surveillance footage from inside the school showed him giving several directions on the day of the shooting.
The entirety of law enforcement's response to the shooting was heavily criticized afterward. The day after the shooting, Mr. Arrendondo seemed to have an idea of ​​what was to come.
"We are going to be checked, I expect that," Arrendondo said during the DPS interview. "We are being examined to find out why we did not go there."