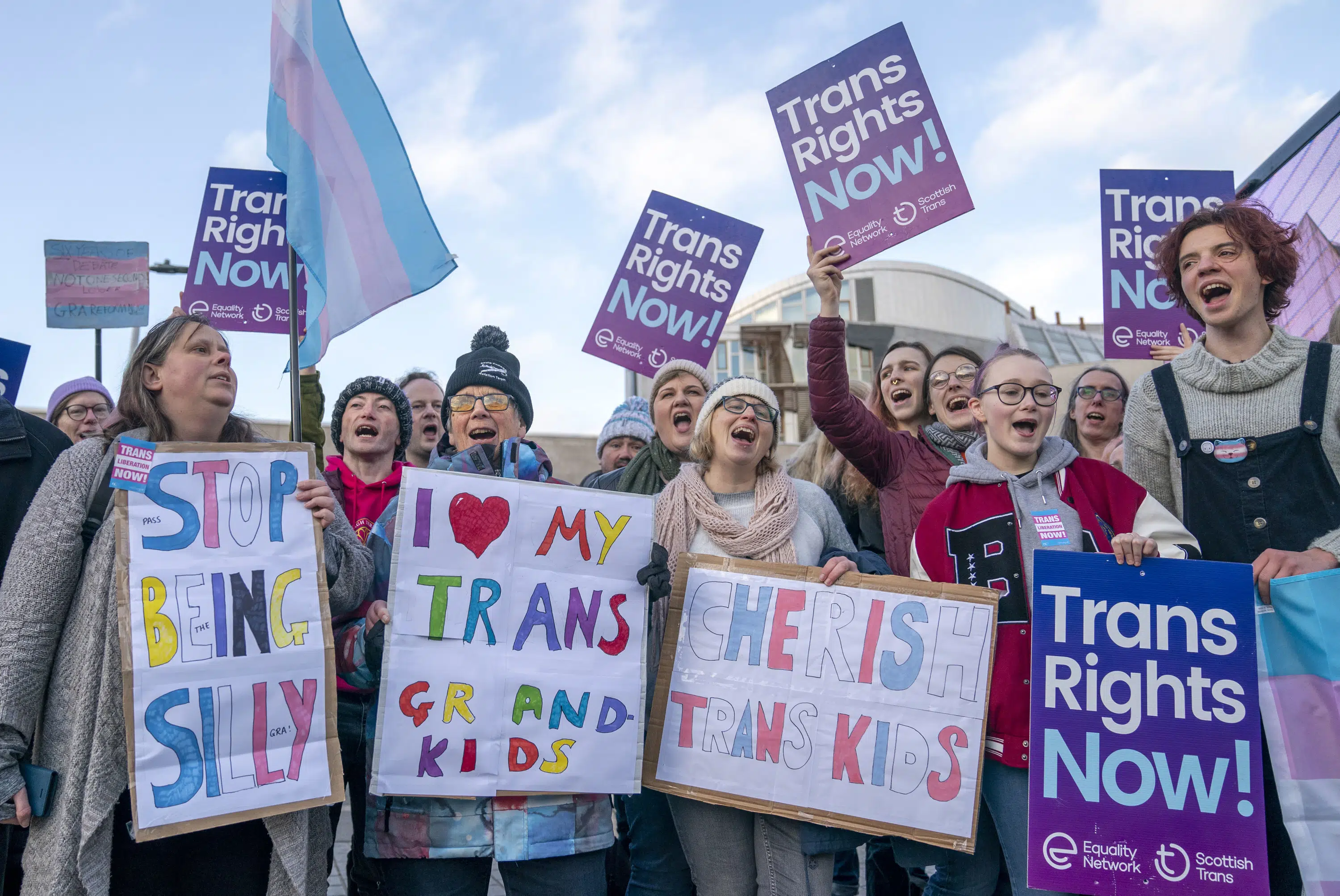 LONDON (AP) — The British government plans to block a new law it makes it easier for Scots to legally change their gender – a move that would spark a row with transgender rights advocates and the Scottish Nationalist administration in Edinburgh.
The Financial Times reported on Monday that Prime Minister Rishi Sunak's conservative administration was set to veto the Scottish law. The government said no decision had been made but it had concerns about the law, "particularly regarding safety issues for women and children".
Legislation approved by the Scottish Parliament last month allows people aged 16 or over to change the gender designation on their identity documents by self-declaration, removing the need for a medical diagnosis of gender dysphoria.
It also reduces the time trans people must live in a different expressed gender before the change is legally recognized, from two years to three months for adults and six months for people aged 16 and 17.
The law sets Scotland apart from the rest of the UK, where a medical diagnosis is required before individuals can transition for legal purposes.
Several countries around the world have legalized gender self-recognition, including Argentina, Canada, New Zealand, Denmark, and Iceland. Last month, the Spanish parliament approved a bill similar to Scotland's.
The Scottish National Party-led government in Edinburgh says the new law will improve the lives of transgender people by enabling them to obtain official documents that match their gender identity.
Opponents say it risks giving predatory men access to spaces intended for women, such as shelters for victims of domestic violence. Others argue that the minimum age for transition should remain at 18.
Scotland is part of the United Kingdom but, like Wales and Northern Ireland, — has its own semi-autonomous government with broad powers in areas such as healthcare. The UK government in London has the final say in some other areas and is seeking legal advice on whether Scottish law conflicts with UK-wide equality legislation, which guarantees women and girls access to single-sex spaces such as changing rooms and shelters.
Sunak's government has until Wednesday, four weeks after the bill was passed, to decide whether to veto the law. If so, the case will likely go to the UK Supreme Court.
Such a move would mark the first time a UK government has blocked Scottish law since the Scottish government and parliament were established a quarter of a century ago. This would provide fodder for nationalists who want Scotland to break away from the UK and become an independent country. They are likely to argue that the government in London is interfering in a Scottish decision.
Scottish National Party lawmaker Stephen Flynn said a veto from London would be an "outrage".
Shami Chakrabarti, Labor member of the House of Lords and former director of rights group Liberty, said Sunak's government could try to foment 'culture wars' by intervening, but legally 'they may be right' .
"It can be argued, at least, that what happened in Scotland has a potential impact on legislation as it applies UK-wide," she told the BBC. .