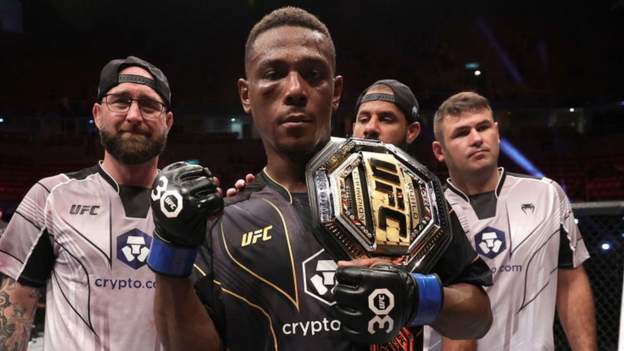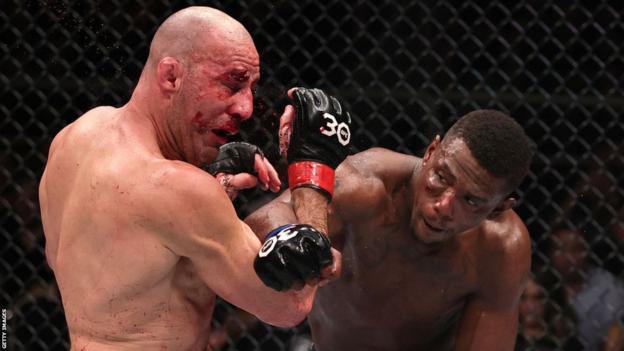 Jamahal Hill defeated local favorite Glover Teixeira via unanimous decision to claim the light heavyweight title at UFC 283 in Rio de Janeiro, Brazil.
American Hill, 31, dominated the stand-up all the way winning his first title in his eighth UFC fight.
He becomes the first athlete to become a champion after earning a UFC contract through President Dana White's Contender Series.
Following the defeat, Brazilian Teixeira, 43, announced his retirement.
Former champion Teixeira spent 10 years in the UFC, winning 16 of his 23 fights with the promotion.
In the co-main event, Mexico's Brandon Moreno defeated Brazil's Deiveson Figueiredo to become the two-time undisputed flyweight champion.
Moreno, 29, knocked out Figueiredo, 35, with a left hook, opening a large cut under his right eye. The swelling caused the eye to close, leading the doctor to call off the fight at the end of the third round.
It ended a historic fourth fight between the two, with Moreno winning two, losing one and drawing the other.
Hill rises for the occasion
The event at Jeunesse Arena was the first in Brazil since 2020 when Charles Oliveira beat Kevin Lee.
The country has a rich MMA history, producing all-time greats such as Anderson Silva, Amanda Nunes and Jose Aldo.
The UFC light-heavyweight division has been without a champion since early December after Jiri Prochazka vacated the title with a shoulder injury.
Jan Blachowicz and Magomed Ankalaev fought for the belt last month but it ended in a draw, which led to the set up of the fight between Hill and Teixeira.
Some were surprised by the pairing, with Hill seventh to Teixeira second in the UFC light-heavyweight rankings. But Hill looked at home all five rounds against his very experienced opponent.
Hill was by far the busiest, throwing a record number of strikes in a UFC light-heavyweight bout, his left kick giving Teixeira trouble throughout.
Teixeira's best path to victory seemed to be on the ground, but despite a few successful takedowns, he was unable to significantly threaten Hill.
Teixeira took heavy damage and looked close to being finished several times, but he showed incredible durability to recover every time he was shaken.
After the win, Hill broke down in tears and was overcome with emotion during the post-fight interview.
"Where I came from to get here is unreal. I had to fight for everything just to be here, to get this. I had to fight to live," he said.
"[Teixeira] is hard as bricks. I don't know anyone who would be able to take what I was throwing and keep going. It was an honor to share this cage with him."
After laying down his gloves on the canvas, Teixeira announced his intention to focus on training middleweight champion Alex Pereira.
"I think I'm too tough for my own good, my own health," Teixeira said.
"I can't keep up anymore, I'm going to focus my energy on training Alex Pereira. It's an honor to put on my gloves on the same evening as Shogun [Rua] but I can no longer follow."
Moreno ends epic Figueiredo rivalry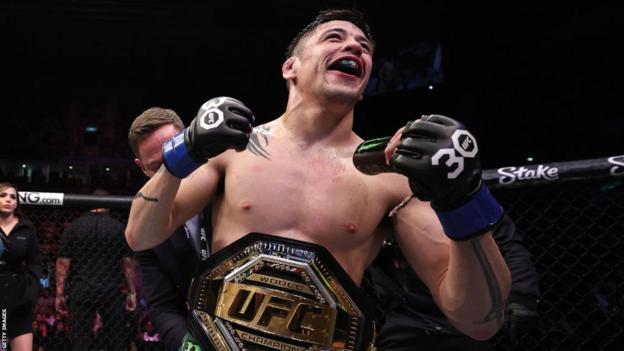 The fight between Figueiredo and Moreno was the first time in UFC history that two athletes faced each other four times.
The pair drew in their first title clash of 2020, before Moreno won in 2021 to become Mexico's first-ever UFC champion.
Figueiredo avenged that loss in the trilogy last January, becoming a two-time flyweight champion.
Moreno's preparations for this fight were hampered midway through his training camp in December when it was revealed that his head trainer James Krause had been suspended by the UFC amid an alleged betting scandal, forcing him to find a new coach.
But Moreno showed no signs of being upset as he comfortably outclassed the home favorite in three rounds.
Moreno mixed up his attacks superbly, landing a number of quick combinations that were followed by takedown attempts.
Moreno spent a significant portion of the fight controlling him on the ground, finishing all three rounds in a dominant position, and was top of the scorecards when the doctor called off the fight.
After the loss, Figueiredo announced that he would move up to bantamweight.
Elsewhere, Scotsman Paul Craig was disappointed, losing to Brazilian Johnny Walker in the first round of their light heavyweight competition.
Walker, 30, who trains in Ireland, dropped Craig, 35, with a flurry of right hands, despite his front leg being caught in a front kick, before ending the fight with hammers as the referee intervened.
The loss is Craig's second straight after a six-fight unbeaten streak, while Walker's win will secure him a top-10 spot in the UFC light-heavyweight rankings.