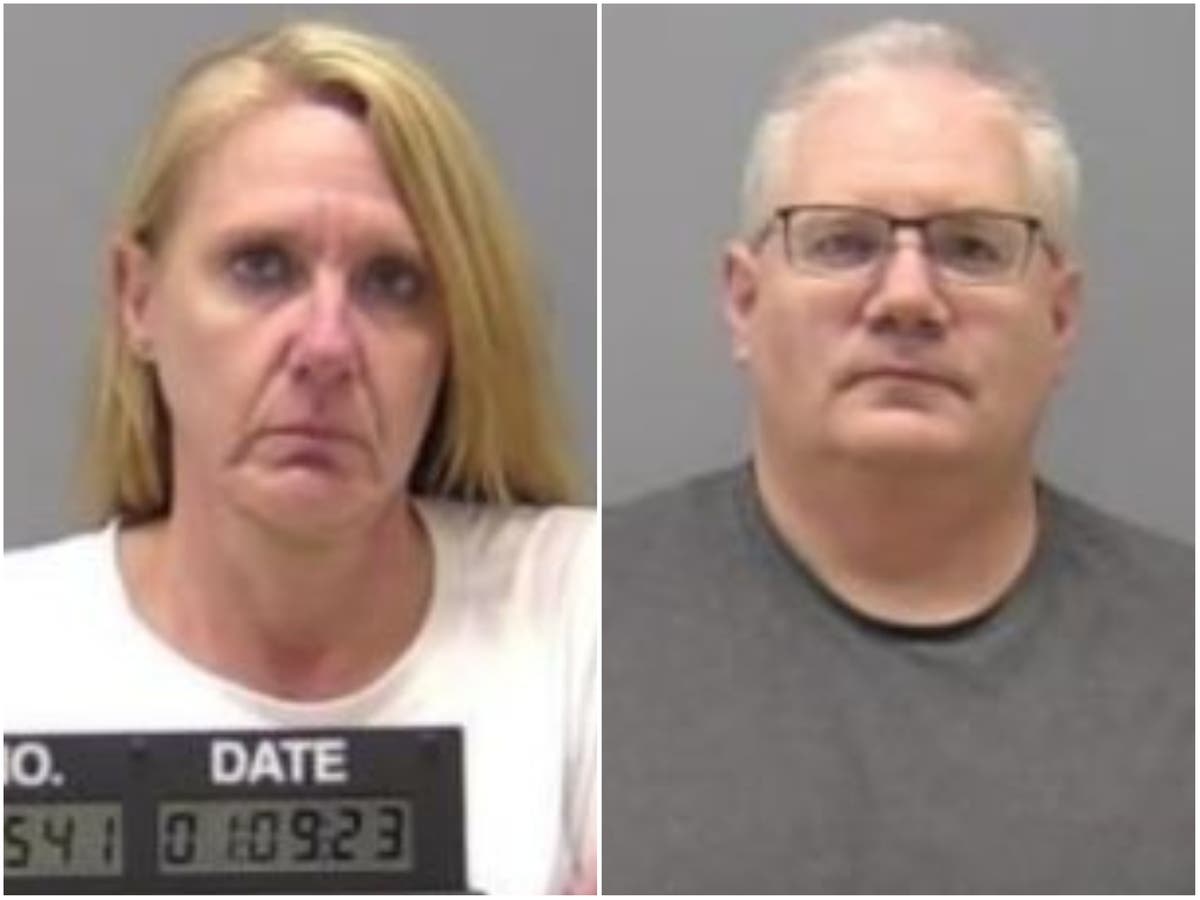 Two Illinois paramedics have been charged with murder after one of their patients died of positional asphyxiation after being taken to hospital last month.
Charged rescuers Peggy Finley, 44, and Peter Cadigan, 50, attended a home in the state capitol of Springfield on December 18 after police sought medical help when a person was "in pain hallucinations due to alcohol withdrawal". the Springfield Police Department said in a news release.
Police released body camera footage that shows Ms Finley entering a bedroom at the back of the house while an officer speaks to her about the patient, Earl Moore Jr, CNN reported.
Ms Finley can then be heard yelling at Mr Moore, 35, to get up and walk to the ambulance.
"You're going to have to walk because we're not carrying you!" she says in the pictures. "I'm really not in the mood for that stupid shit."
Two police officers can then be seen helping the patient out and onto the ambulance stretcher. Mr. Cadigan then puts Mr. Moore in position and the two paramedics then strap him down in a prone position.
"The Springfield Police Department was later notified that the patient died after arriving at the hospital," the department said.
An autopsy report says Mr Moore died of "compressive and positional asphyxia due to being restrained face down on a paramedic transport bed/stretcher by straps tightened across his back and lower body in a context of lethargy and underlying chronic alcoholism".
The paramedics were arrested on January 9 and charged with first-degree murder, according to court documents.
Their bail was set at $1 million each and they are being held at the Sangamon County Detention Center. They are due to appear in court on January 19.
Attorney Peter Wise represented the paramedics at a bail hearing on Tuesday. He said The Washington Post that Ms. Finley and Mr. Cadigan have no criminal history and are not a danger to others.
"These are two good people who find themselves in a very strange criminal case," Mr Wise told the newspaper.
The Sangamon County prosecutor announced the murder charges after the coroner ruled the cause of death was homicide.
State's Attorney Dan Wright said on Tuesday that paramedics knew that securing Mr Moore in a prone position "would create a substantial likelihood of serious bodily harm or death".
When police arrived at Mr Moore's home, a woman answered the door and explained he was a severe alcoholic who had not had a drink for four days. She added that he had hallucinations but was not violent.
Officers called for medical help after trying to talk to Mr Moore, who was lying in bed, for around 30 seconds. Mr Moore fell out of bed before paramedics arrived, according to The post office.
"This is Earl," one of the officers told Ms Finley. "I couldn't get much out of him."
"Earl, sit down. Sit down! she shouted after he didn't answer her questions.
The president of the NAACP Springfield chapter said Illinois time that "it was almost worse" than the death of George Floyd, who was murdered by police in Minneapolis, Minnesota in May 2020, sparking nationwide protests for racial justice.
"If this guy was already… having difficulty breathing, and you put him face down on a stretcher, I mean, it was hostile to see the video and how they treated him," Ms. Haley at the newspaper. "They literally threw his hands behind him and just tied him up. He couldn't move if he wanted to.
The Independent contacted Mr. Wise for comment.