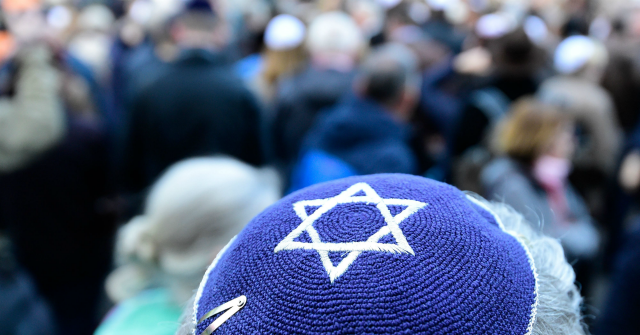 The number of Americans who believe in anti-Semitic tropes has doubled since 2019 and is now at the highest level in decades, according to a new poll released Thursday by the Anti-Defamation League.
The organization called the findings "staggering and sobering".
More than three-quarters of Americans (85%) believe in at least one anti-Jewish trope, up from 61% in 2019. In total, 20% of Americans believe in six or more tropes, up from 11% in 2019 and rate not seen. since the early 1990s.
"Those of us on the front lines have been expecting such results for some time now – and yet the data is still staggering and sobering: there is an alarming increase in anti-Semitic views and hatred in nearly every indicator – at levels not seen in decades," said ADL CEO Jonathan A. Greenblatt.
"From Pittsburgh to Charlottesville to the almost daily harassment of Jews in our largest cities, anti-Semitic beliefs lead to violence. I hope this investigation is a wake-up call for the whole country," he said.
REVEALED: New York Times political editor Tom Wright-Piersanti has a history of anti-Semitic and racist comments on his Twitter page for years. https://t.co/PFUh84w1tj

— Breitbart News (@BreitbartNews) August 22, 2019
"Dual loyalty" was an issue for many respondents, with 39% believing that Jews are more loyal to Israel than to the United States. Another 20% think American Jews have "too much power."
Twenty-six percent say Jews have "too much power in business,"
Twenty-one percent think Jews "don't care about anyone but themselves."
Twenty percent think Jews "are more willing than others to use shady practices to get what they want."
Fifty-three percent think Jews will go out of their way to hire other Jews, according to the poll.
Twenty-three percent think Israel gets away with anything and controls the media, and 18% say they are not comfortable spending time with a pro-Israel person.
There was "significantly more negative sentiment toward Israel and its supporters" among young adults under 30.
The researchers found a substantial correlation between belief in anti-Jewish tropes and anti-Israel sentiment among all respondents.
Kanye West continued his anti-Semitic media tour on Monday, saying Adolf Hitler's bad reputation was "made by the Jewish people" who "control the majority of the media." https://t.co/rtvGsUNdfv

— Breitbart News (@BreitbartNews) December 7, 2022
"These anti-Israel beliefs are not commentary on Israeli government policies," Greenblatt said. "They are anti-Semitism in another form."
The survey was conducted online between September and October 2022 among a representative sample of more than 4,000 American adults.