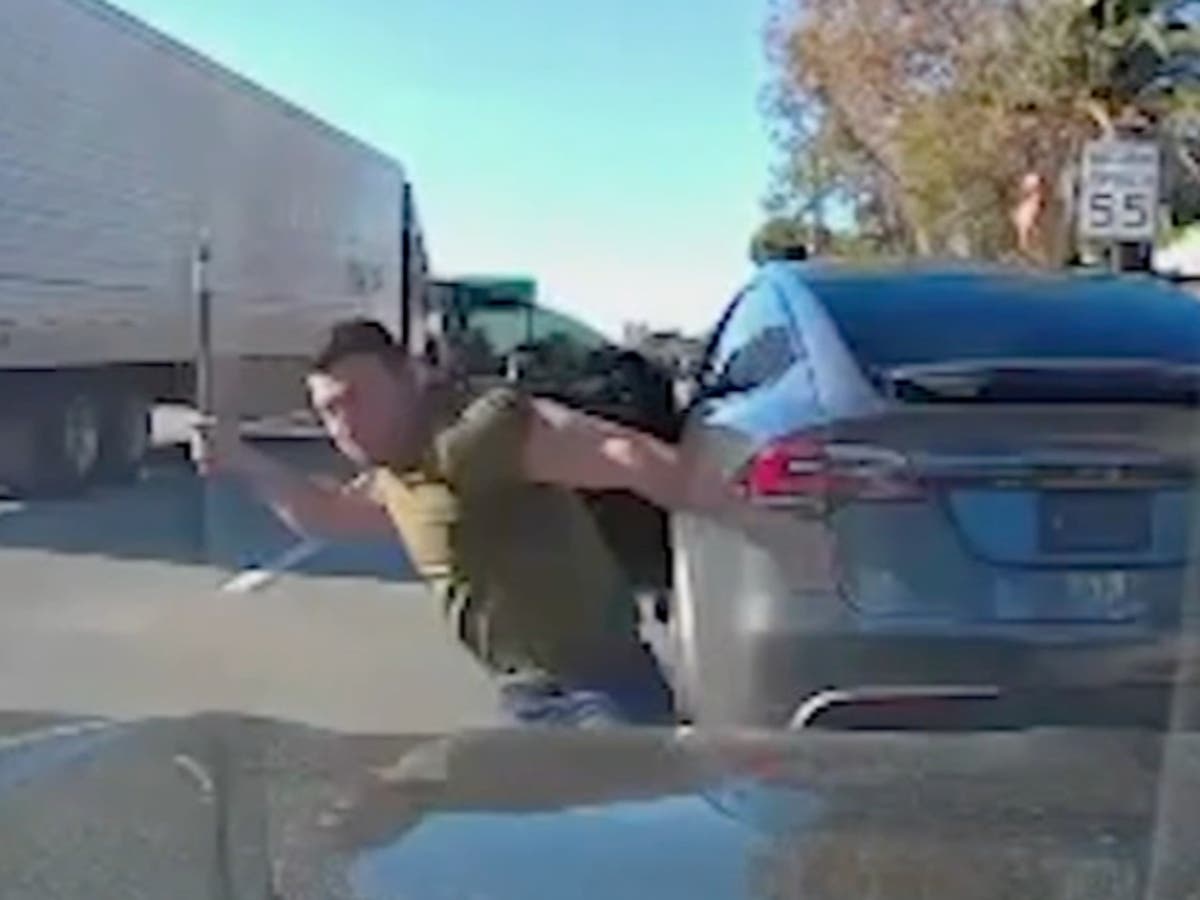 A Tesla driver appears to be at the center of a growing list of road rage incidents in Southern California.
Several people spoke to the press about their experience of being attacked by apparently the same man in a dark car with no license plates or plates that were covered.
A woman recently told KABC that she was assaulted by the man in June while she was with her 93-year-old mother.
"The Tesla was coming from the opposite direction," the woman, who has not been identified, told the local television station. "We faced off and I was like, 'You can do it, just keep coming slow. And immediately he went into some kind of psycho mode and started screaming and gesturing.
She said he left his car, threw a can at them, then got back into his Tesla. She said a valet tried to calm him down before he was punched in the face.
"Boom! He just punches him in the face," she told KABC.
Surveillance footage shows the man threw something at the valet.
"I take out my phone, I start taking some pictures. I try to step back. They get into it," the woman said.
The man looks enraged before driving off in his car. According to KABC, there were 10 altercations involving the Telsa driver.
The victims claim they were harassed and sometimes chased by an individual in a darkened Tesla, with the most recent incident reported to have happened on Wednesday.
"Honestly, I felt like he was going to either break my windows or take me out," one victim told the local TV station.
Another woman told the outlet that she received a black eye in October 2021 when she was attacked by this same man in a parking lot at Santa Anita Mall in Arcadia. She alleged that he yelled at her and damaged her vehicle before hitting her.
Wednesday's alleged attack took place around 8am on Hwy 2 in Glendale when the man jumped out of his car, which has no license plate, wearing a green t-shirt and wearing a mask.
Footage shows him getting out of the car and hitting the vehicle behind him.
"At first you think, 'Should I nail it to the wall with my car? "Should I knock it over? " " What should I do ? the victim told KTLA. "And I tried to stay focused and think, 'I don't want to go from victim to criminal in an instant. ""
The victim said he started filming after seeing the Tesla driver attack another car the same morning, chasing a white sedan to an exit, trying to get out and hit the car before it started .
The driver of the car told KABC that she honked at the Tesla driver because he took a long time to merge.
"Honestly, I felt like he was going to either break my windows or kick me out," she told the outlet.
In a video recorded by one of the victims, the man tells him "you better get out of Cali where you come from".
"You don't even know where I'm from," she replies. "I was born and raised in LA."
Each of the victims reported the incidents to the police and an investigation was opened by the California Highway Patrol, according to the New York Post.