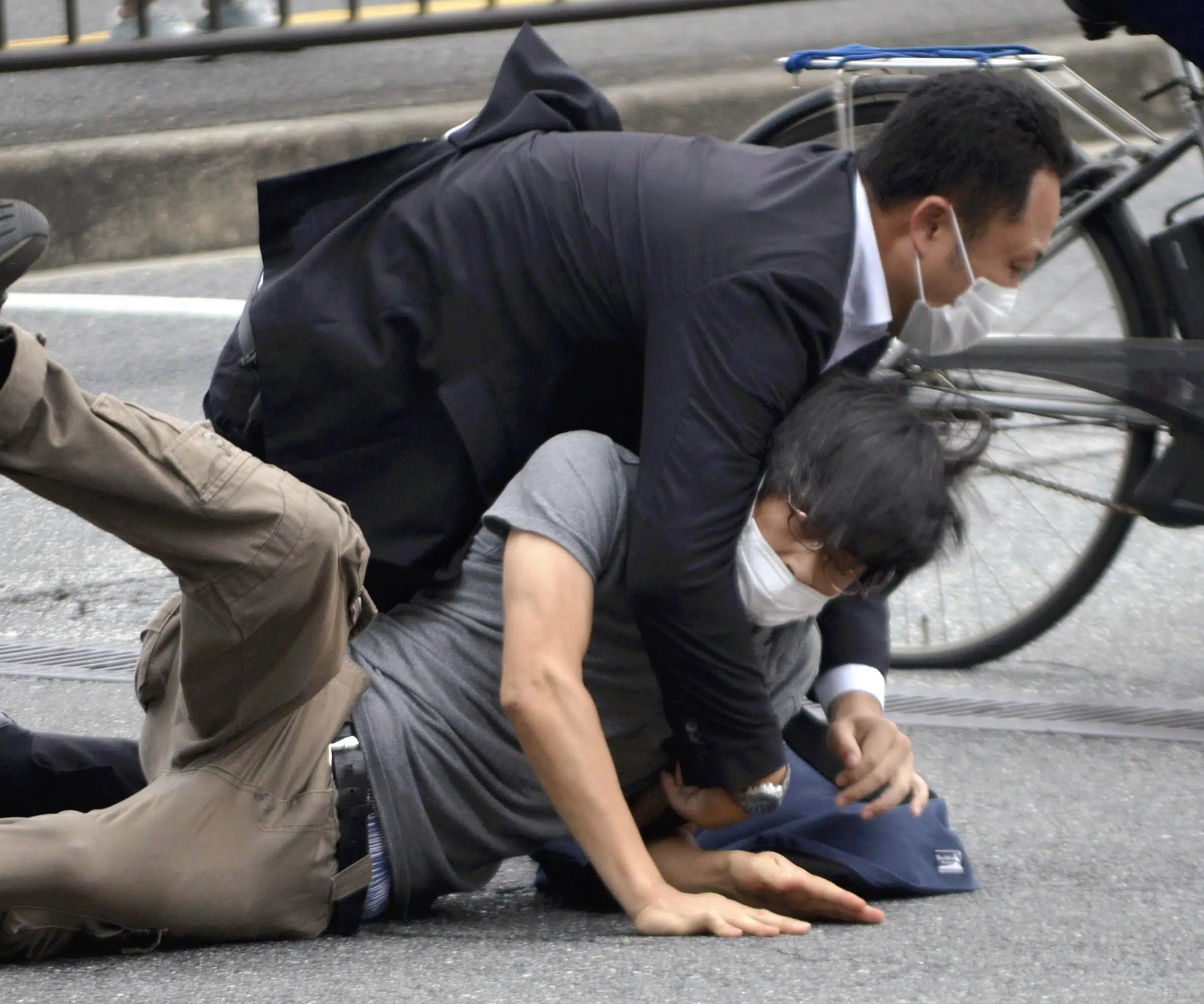 TOKYO (AP) — Japanese prosecutors have formally charged the suspect in the assassination of former Prime Minister Shinzo Abe with murder, sending him to trial, a Japanese court said Friday.
Tetsuya Yamagami was arrested immediately after allegedly shooting Abe with a homemade weapon as the former leader gave a campaign speech in July outside a train station in Nara, western Japan.
Later that month, Yamagami was sent to an Osaka detention center for a nearly six-month mental evaluation, which ended on Tuesday. Yamagami is back in custody in Nara.
Prosecutors said the results of his mental evaluation showed he was fit to stand trial. Yamagami was also charged with violating a gun control law, according to the Nara District Court.
Police said Yamagami told them he killed Abe, one of Japan's most influential and controversial politicians, because of Abe's apparent ties to a religious group he hated. In his statements and in social media posts attributed to him, Yamagami said he developed a grudge because his mother made massive donations to the Unification Church that bankrupted his family. and ruined his life.
One of his lawyers, Masaaki Furukawa, told The Associated Press on Thursday that Yamagami was in good health during his mental evaluation in Osaka when he was only allowed to see his sister and three lawyers.
Furuawa said his trial was a serious matter and involved a jury of citizens. Due to the complexity of the case, it would take at least several months before his trial began, he said.
Police are also reportedly considering adding several allegations, including the production of weapons, violation of the Explosives Control Act and damage to buildings.
Some Japanese have expressed sympathy for Yamagami, especially those who also suffered as the children of followers of the South Korea-based Unification Church, which is known to pressure adherents to they make large donations and is considered a cult in Japan.
Thousands of people signed a petition asking for clemency for Yamagami, and others sent care packages to his relatives or to the detention center.
The investigation into the case has led to revelations of years of close ties between Abe's ruling Liberal Democratic Party and the church since Abe's grandfather, former Prime Minister Nobusuke Kishi, helped root the church in Japan in the 1960s on common interests in conservative and anti-communist causes.
Current Prime Minister Fumio Kishida's popularity has dipped in his handling of the church controversy and for insisting on holding a rare and controversial state funeral for Abe.