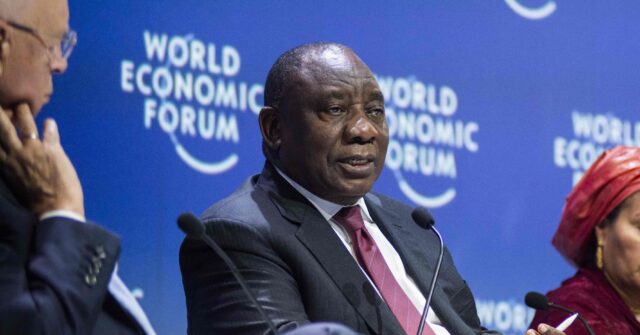 South African President Cyril Ramaphosa has canceled his trip to the World Economic Forum in Davos, Switzerland, amid threats of a "national shutdown" to protest rising electricity prices amid widespread blackouts.
Eskom, the national electricity company, has been unable to meet the country's electricity needs for several years, due to insufficient investment, aggressive affirmative action, ruling party corruption and sabotage.
To avoid a total collapse of the electricity network, Eskom has put in place periodic more or less severe "load shedding" plans, which involve controlled outages. The country is currently mired in "phase 6", which means consumers have to endure a period of eight to 12 hours without power per day. Only homes and businesses that can afford their own generators – usually diesel-powered – can keep their lights on.
Despite its inability to provide stable services, Eskom has implemented a nationwide tariff increase of 18.65% for 2023 and 12.74% for 2024. This has caused widespread outrage from consumers and the political opposition.
As the Daily Maverick reports, many are now calling for a general strike, or "national shutdown", in protest:
President Cyril Ramaphosa, who was due to attend the World Economic Forum meeting in Davos this week, has canceled his trip to attend the electricity crisis, his spokesman Vincent Magwenya tweeted on Sunday evening.

…

The nationwide shutdown has been endorsed by members of the public, civil society organizations and political parties on various social media platforms, with many planning to march to Union buildings or park offices. Eskom Megawatt in Johannesburg.

…

In response to Eskom's tariff hikes and ongoing blackouts, the official opposition Democratic Alliance (DA) party launched a petition calling for cheaper and more reliable electricity, which 70,790 supporters already signed.
Other opposition parties, right and left, have also expressed frustration with the ruling African National Congress (ANC), led by Ramaphosa, a labor organizer turned business mogul who came to power with many promises but which is seen by many countries of the South. Africans as a failure.
The country's next general election is due in 2024, and it is possible that the opposition will unite to oust the ANC from power.
The World Economic Forum, founded by Klaus Schwab, brings together the world's business elite and leaders to discuss economic and social policy. It also hosts regional meetings, notably in South Africa.
Joel B. Pollak is editor of Breitbart News and host of Breitbart News Sunday on Sirius XM Patriot Sunday nights from 7-10 p.m. ET (4-7 p.m. PT). He is the author of the new biography, Rhoda: 'Comrade Kadalie, You Are Out of Order'. He is also the author of the recent e-book Neither Free Nor Fair: The 2020 U.S. Presidential Election. He is the 2018 Robert Novak Journalism Alumni Fellow. Follow him on Twitter at @joelpollak.
Photo: file