Salmon deaths on fish farms in Scotland nearly doubled last year, according to official figures, due to rising levels of disease, parasites and jellyfish blooms. Activists blamed overcrowding and called for a boycott.
Data from the Fish Health Inspectorate (FHI) shows nearly 15 million salmon deaths were reported by Scottish farms from January to November 2022, the latest data available, up from 8.58 million in 2021 and 5.81 million in 2020.
Atlantic salmon production has been broadly stable at around 200,000 tonnes per year for the past four years, with some estimates that up to 77 million fish are farmed each year.
Salmon farmers have blamed the rise on unusually high numbers of micro-jellyfish that swarmed UK waters last year, a phenomenon that could be linked to the worsening climate, but Abigail Penny, executive director of Animal Equality UK said overcrowding on salmon farms was to blame. .
"Deaths in fish pens have reached record levels for a number of reasons," she said, "including a sharp rise in infectious disease among fish that are crammed into abnormally overcrowded cages, as well such as poor gill health and harsh treatments to remove lice from infested waters.
"As the industry grows, these problems also increase. We need to take back the power and boycott farmed fish – it's the only way to start stemming this ever-worsening problem.
The Fish Health Inspectorate, part of Marine Scotland, is responsible for monitoring the 213 salmon farming sites in Scotland. Farms have a voluntary agreement to report salmon deaths above certain thresholds, a Scottish government spokesperson said.
"Mortality reports list several factors – for example gill problems, bacterial or viral infection, handling or predation – so it is not always possible to attribute mortalities to a specific cause," said the spokesperson.
"However, gill health remains a key issue. There has been an increase in the attribution of environmental issues, including jellyfish and plankton blooms, and bacterial infections as the cause of death in 2022."
The seas around the UK have increasing numbers of jellyfish, according to the Marine Conservation Society.
Salmon accounts for 29% of all fish sold to UK consumers, who spent £1.2billion in shops last year, and around a quarter of Scottish salmon is exported.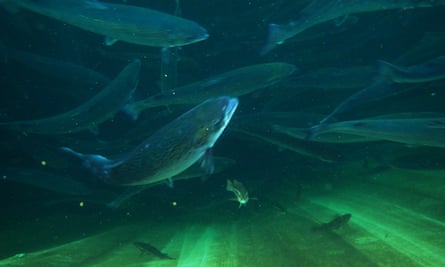 Atlantic salmon are farmed in net pens up to 160 meters wide in Scottish waters, including its longest marine loch, Loch Fyne, meaning the farms are exposed to the natural environment and the marine ecosystems are affected by farming.
During their two-year life cycle, farmed salmon are vulnerable to harsh weather, predators such as seals, sea lice and disease, especially when the waters are warmest in September and October.
Drone footage collected by Animal Equality UK shows workers using a 'death sock' to dredge dead fish from the bottom of enclosures.
"I've been kayaking to the farms at 5 a.m. in the summer when it's daylight before they get to work, and you see dead fish lying on their stomachs on top of the cages," said said Don Staniford, of the Scamon Scotland campaign. . "The others sank to the bottom. So the first thing they do is pick up the dead fish.
Staniford said FHI's numbers on salmon deaths were likely understated because not all mortalities need to be recorded.
"About 25% of salmon in sea cages die, so that's about one in four," he said. "If hikers saw one in four dead cows or sheep in a field they would be horrified, but because it's underwater it's out of sight, out of mind."
He pointed to sites with huge death rates, with one farm in Loch Nevis reporting a cumulative death rate of 64% last November. "There is no ethical way to farm salmon," he said. "They are chipping away at the Scottish environment, impacting local communities who depend on tourists, and there is an impact on the welfare of farmed fish."
Salmon Scotland said a jellyfish bloom can force a site to be closed or set aside, with farmers harvesting all the fish.
Tavish Scott, chief executive of the industry body, said: "Wild Atlantic salmon have a survival rate of only around 1-2%, compared to around 85% for a farmed salmon.
"Throughout the year, different environmental pressures will affect survival rates. Farmed Scottish salmon typically face the greatest challenges in the fall, when seawater temperatures peak.
"Salmon farmers care for their fish daily and do everything they can to provide some of the best animal health and welfare standards in the world.
"We are working with industry and academia to develop an early warning system that helps protect fish from jellyfish blooms in the future."