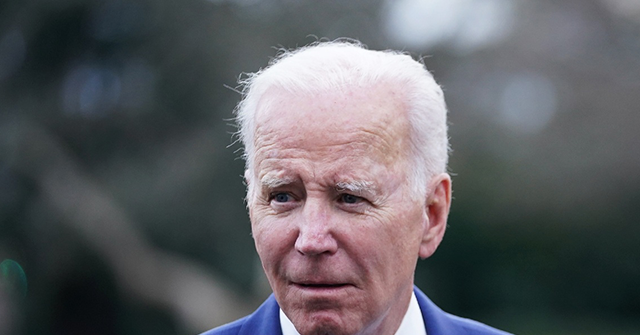 Oversight Committee Chairman Rep. James Comer (R-KY) sent a letter to White House Chief of Staff Ron Klain requesting visitor records from President Joe Biden's residence in Wilmington, Delaware, where several classified documents were found.
"It is troubling that classified documents have been stored improperly at President Biden's home for at least six years, raising questions about who may have viewed or had access to classified information," Commer wrote in his letter to Klain on Sunday, noting that an investigation is underway into Biden's mishandling of classified documents from his committee and the Justice Department.
With possible national security risks, the watchdog president also raised questions as to why Biden's aides and lawyers — many of whom may not have clearance — appeared to continue to search. more classified documents at his home in Delaware after the first documents were discovered last week. .
"Given the serious national security implications, the White House must provide the Wilmington residence visitor log," he added in his letter to Klain. "As chief of staff, you head the president's executive office and have a responsibility to be transparent with the American people on these important matters relating to the White House's handling of this matter."
"Biden's mishandling of classified documents raises the question of whether he compromised our national security," Comer continued. "Without a list of who visited his residence, the American people will never know who had access to these highly sensitive documents."
🚨🚨🚨

I call @POTUS Chief of Staff Ron Klain will post the Visitor Log to President Biden's residence in Wilmington and provide information on all searched properties and locations, including the identities of Biden's aides conducting the searches.👇🏼https: //t.co/4M3O2oWUNB

— Rep. James Comer (@RepJamesComer) January 15, 2023
Last week, classified documents were found at Biden's vice presidential office at the Penn Biden Center for Diplomacy and Global Engagement in Washington, which is near Capitol Hill, in addition to other locations such as his home. in Delaware.
However, Comer's letter follows a report by the New York Times of Saturday said his legal team found additional classified documents at Biden's residence in Delaware, bringing the total number of mishandled documents to about 25. Wendell Husebo of Breitbart News wrote:
The additional pages were found just hours after the White House revealed Thursday that a document was found in a storage area near the garage of Biden's home in Wilmington, on Thursday. New York Times reported Saturday.

Justice Department employees recovered the document on Thursday, which was exhumed on Wednesday by the president's legal team, who did not have security clearances.

Biden's personal attorney, Bob Bauersaid Saturday that the single document led Biden's lawyers to five other classified documents, which were apparently discovered because "Biden's personal legal team did not have security clearances, so when they saw the one-page document with classification marks, they cleared the area and looked no further."
Comer noted in his letter that it is concerning that Biden's White House aides and personal attorneys searched the president's home in Delaware, knowing that the DOJ is also investing in the case. He also noted that there needs to be transparency with visitor logs to determine "whether individuals with foreign ties to the Biden family have gained access to President Biden's residence and classified documents that he mishandled." managed for years".
To be in cooperation with the letter, Comer asks Klain to produce "All documents and communications related to the searches of President Biden's home(s) and other locations by Biden's aides for classified documents," in addition to dates. searches and identity. aides and visitor records from the Biden residence in Delaware since Jan. 20, 2021. Comer is requesting the documents by Jan. 30, 2023.
Jacob Bliss is a reporter for Breitbart News. Write to him at jbliss@breitbart.com or follow him on Twitter @JacobMBliss.