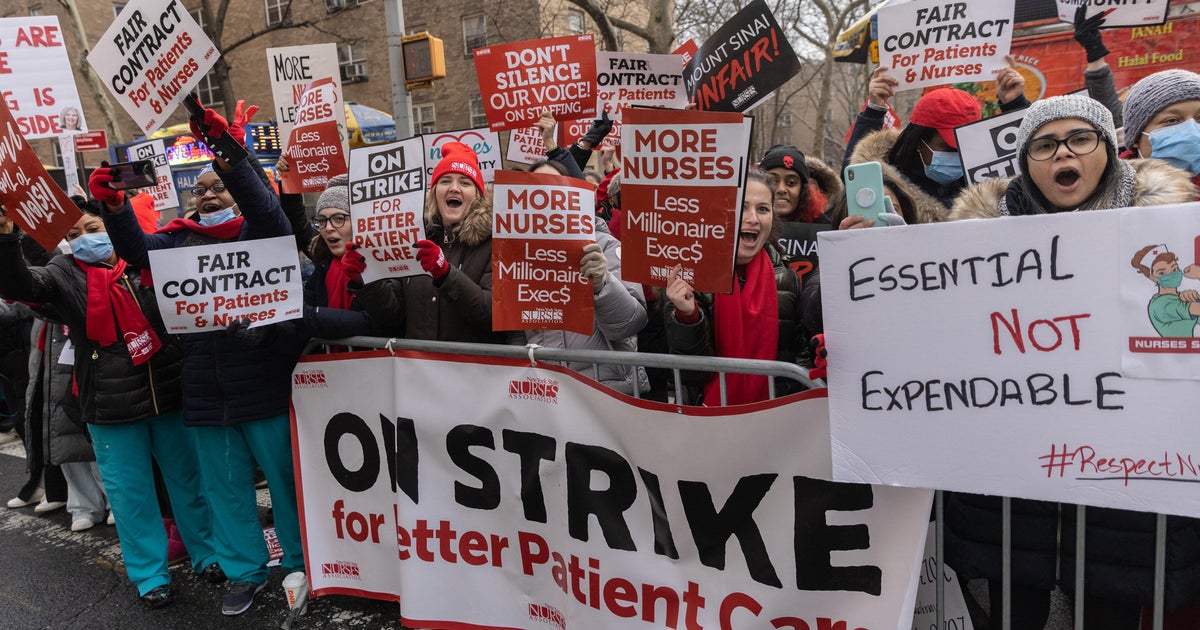 A nurses strike which disrupted patient care at two of New York's largest hospitals entered its second day on Tuesday, with a union official saying progress was being made toward a possible settlement at one of the institutions.
The two hospitals, Montefiore Medical Center and Mount Sinai Hospital, were postponing elective surgeries, diverting ambulances to other medical centers, bringing in temporary staff and assigning administrators with nursing training to work on the wards to make faced with the walkout of no less than 7,100 people. nurses.
The New York State Nurses Association, which represents workers, said yesterday it was forced to take drastic action due to a severe understaffing that leaves nurses to care for too many of patients.
"Nurses don't want to strike. The bosses pushed us to strike by refusing to seriously consider our proposals to deal with the desperate crisis of dangerous staff harming our patients," the union said in a statement on Sunday. .
Progress was being made toward a settlement in Montefiore, Judy Sheridan-Gonzalez, union official and nurse with the Bronx hospital system, said Tuesday.
On the picket line outside, nurses said they had to strike because a chronic understaffing meant they had to care for too many patients.
"We are tired now – overwhelmed. The nurses are exhausted," said Saffie Sesay, the hospital's emergency room nurse. "It's only getting worse."
"Truly moving to hear from frontline nurses and our supporters about the conditions that led to this strike," NYSNA tweeted Tuesday afternoon.
Meanwhile, as of noon, negotiations had yet to resume at Mount Sinai Hospital in east Manhattan. Hospital spokeswoman Lucia Lee expressed hope that talks could soon resume with the union, the New York State Nurses Association.
"The impact is being felt," she said of the walkout.
Last holdouts
Montefiore and Mount Sinai are the latest in a group of hospitals whose nursing contracts expired simultaneously. The union initially warned it would strike all at once, but the other hospitals reached agreements as Monday's strike deadline approached. All include increases of 7%, 6% and 5%, respectively, over the next three years.
Nurses on the picket lines pointed out that staffing levels are a bigger issue than compensation. New York nurses were hailed as heroes in the spring of 2020 as the city was an epicenter of deaths of COVID-19. Now they say they are exhausted by low staffing levels that have been a problem for years.
"Remember, even before (the) pandemic, we were already understaffed," said Mount Sinai nurse Nagie Pamphil. She said nurses in her unit would now have to care for twice as many patients as they can safely handle.
"It's impossible," she said.
Montefiore said he agreed to add an additional 170 nurses. The Mount Sinai administration said the union's focus on nurse-to-patient ratios "ignores the progress we've made in attracting and hiring more new nurses, despite a global shortage of healthcare workers affecting hospitals across the country.