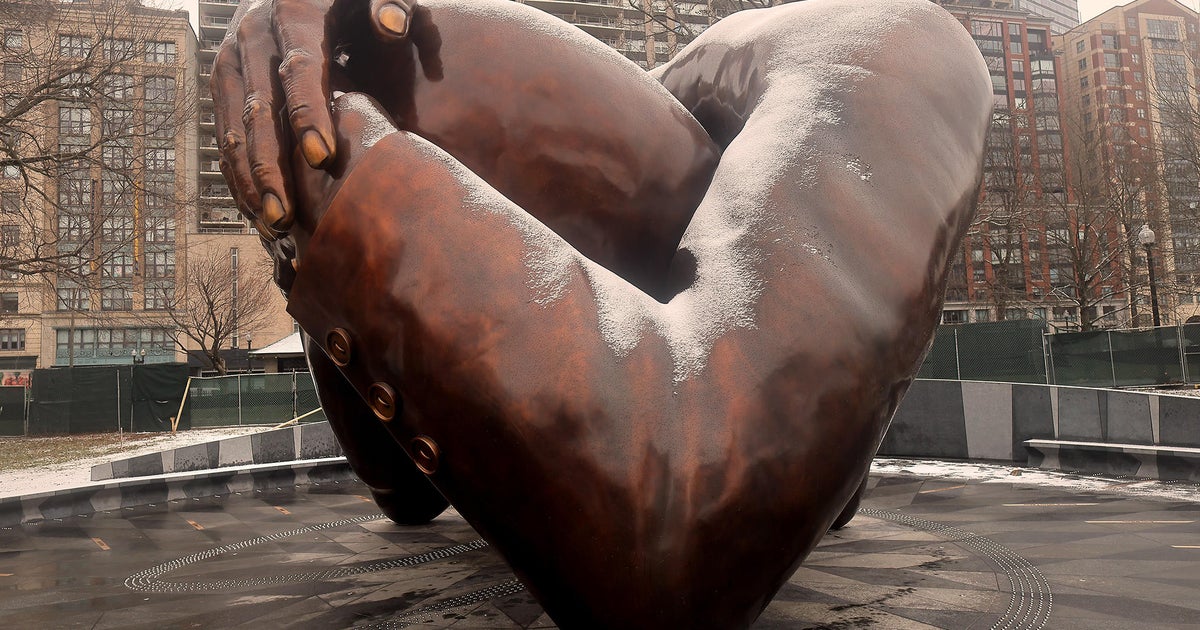 A new monument honoring Dr. Martin Luther King, Jr., and his wife, Coretta Scott King, were unveiled in Boston on Friday, ahead of Monday's national holiday honoring the civil rights icon.
The 22-foot-tall sculpture, named 'The Embrace', depicts the embrace between Dr King and Coretta after winning the Nobel Peace Prize in 1964.
The $10 million bronze statue, designed by Hank Willis Thomas and MASS Design Group, now stands in Freedom Plaza on Boston Common, America's first public park.
"It is a great honor to be part of this memorial unveiling ceremony, which truly signifies the bond of love shared by my parents," said Dr. Martin Luther King III, Dr. King's eldest son, during the unveiling. ceremony.
Dr. King met his wife Coretta in Boston in the 1950s when he was a doctoral student in theology at Boston University and she was a student at the New England Conservatory of Music.
He began preaching in Boston and eventually led a civil rights march from Roxbury to Boston Common, where the statue now stands.
"Whenever I have come to Boston in the past, I have always felt a strong bond of solidarity with this first great American city," King III said. "Of course, this is the city where my parents met and fell in love and decided to start a family. And in a way, I owe my very existence to Boston as the place where my parents met."
Paul English, an entrepreneur, led and invested in the Embrace project in 2017. The project's co-chair, the Reverend Liz Walker, consulted with creators, artists and educators to find an artist and designer for the structure.
The Embrace also offers a digital experience through a self-guided app that lets visitors learn more about the monument, Freedom Plaza and the legacy of the Kings.
The project's executive director, Imari Paris Jeffries, said the statue not only signifies the important unifying civil rights movement of the Kings, but also represents a rarely told story of black love.
"We want one of the messages that sticks in people's minds to be that this is one of the few memorials in this country that is rooted in the history of a black family, the 'black love," Jeffries told CBS Boston.
At the unveiling, Yolanda Renee King, the Kings' only granddaughter, called on attendees to continue the important but "unfinished" work of her grandparents.
"That's the spirit we must keep as we commemorate Martin Luther King Jr.'s 37th birthday on Monday," the teenager said. "Let's make it a great day of community service. A day of fellowship. A day of fellowship. A day of using your platform for good. A day of love and healing in the spirit of this beautiful monument," the 14-year-old said. said the old king to the crowd.