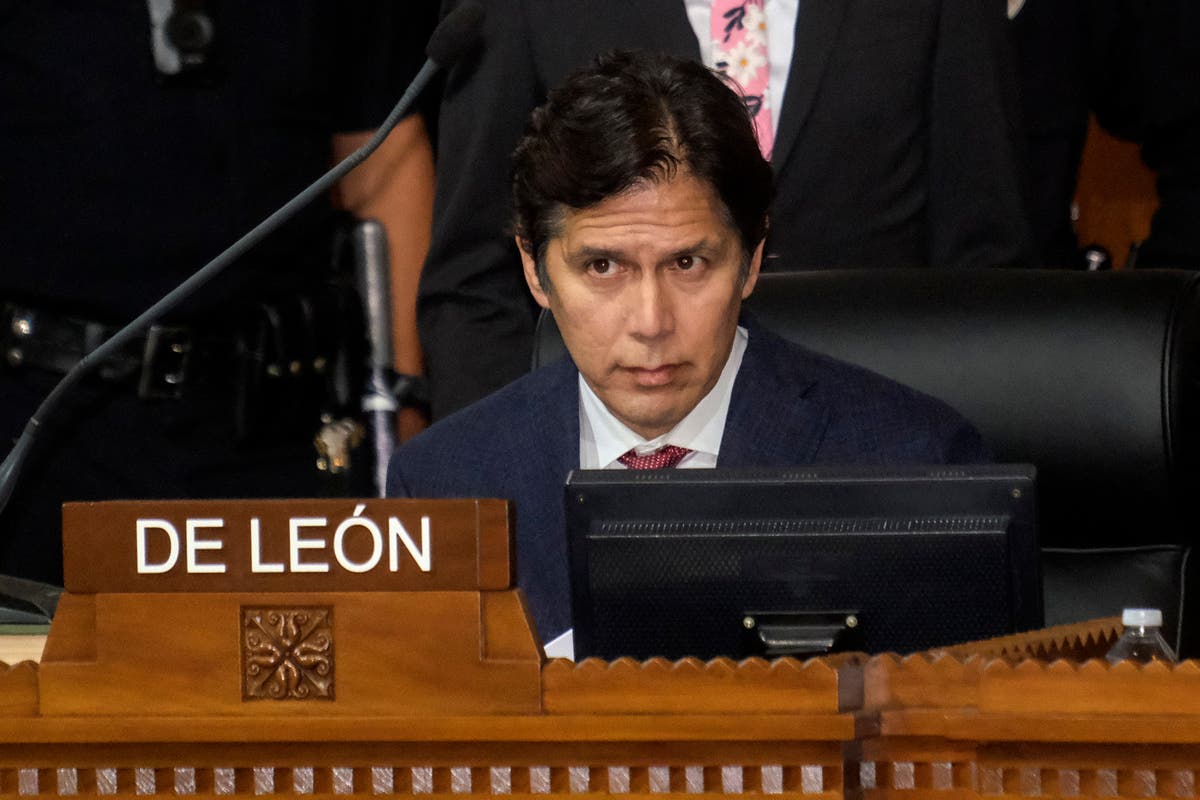 The Los Angeles City Council wrestled again on Wednesday with a still-unfolding racism scandal that led to the resignation of its former president and left behind a dilemma over how to deal with a disgraced member who resisted calls from the President Joe Biden to step down.
In a 12-2 vote, the council agreed to explore possible additional punitive measures against censored councilman Kevin de León, including restricting his use of certain office funds and blocking government-funded couriers. statement he sends to voters.
He is the only council member implicated in the scandal still in office, allowing him to continue to collect his annual salary of nearly $229,000 – among the most lucrative salaries for city council members in the country.
The scandal has strained racial tensions and become a national embarrassment for the nation's second most populous city, which has also been grappling with an unchecked homelessness crisis and rising crime rate. Meanwhile, three current or former council members have been charged or pleaded guilty to corruption charges.
The turmoil was sparked in October by a leaked recording of rude and racist comments from a year-long meeting involving de León, then-board chairman Nury Martinez, union leader Ron Herrera and councilor Gil Cedillo from the time — all Latino Democrats — in which they plotted to expand their political power at the expense of black voters during a realignment of council district boundaries. Herrera resigned and Cedillo's term ended in December.
The California Legislative Black Caucus said the recording "reveals an appalling effort to decentralize black voices during the critical redistricting process."
Who leaked the recording to the Reddit website just weeks before November's midterm elections – and why – remains unknown. National and local law enforcement investigations are ongoing.
The decision to potentially further restrict de León's activities followed the council's vote in October to censure him, Martinez and Cedillo, the strongest step the council could take to publicly reprimand them for their attendance at the private meeting. The board cannot expel members – it can only suspend a member when criminal charges are pending. De León was also removed from his committee duties.
He also faces a possible recall election that could remove him from office. De León repeatedly apologized but said he would not resign.
The latest proposal appears to reflect growing frustration from colleagues who view de León as a political pariah and say they are unwilling to work with him, while pressuring the former head of the state Senate to he is reconsidering his decision to remain in office.
Council Speaker Paul Krekorian said municipal law "lacks clarity" when a council member fails to meet standards of ethical conduct but does not commit a crime. He said the proposal approved on Wednesday asked city officials, including the city attorney, to evaluate other possible actions against de León "so that this council can decide what options are available."
These could also include limiting its ability to bring certain types of motions and limiting its ability to authorize contracts.
"The council cannot legally take any action to remove the León council member from the council – only residents of District 14 can do so," Krekorian said in an earlier statement, referring to a possible recall election. "But the council cannot seem to tolerate racist sentiments like those heard on the recording…".
He said none of the possible steps would affect district funding or services.
After an absence from the council, De León maneuvered to return to the public sphere, despite insults from his colleagues who openly berated him in the chamber. His appearances at council meetings sparked loud protests, and last month he got into a fight with an activist who heckled him at a holiday toy giveaway.
In remarks to council, De León called the proposal "deeply troubling", saying it would reduce residents of his neighborhood to "second-class status".
De León called the provisions outlined in the motion a "slippery slope," which, if approved, would undermine "the rights of my constituents to be equally served."
As in meetings in recent weeks, a string of locals who spoke called León a shame who should step down, but others urged him to continue his work in his heavily Latino neighborhood, which includes the downtown Los Angeles.