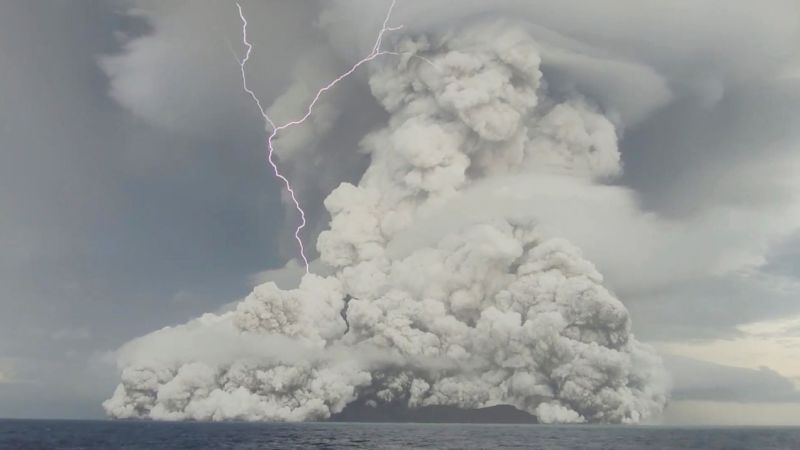 CNN
—

When the Hunga Tonga-Hunga Ha'apai volcano erupted in January 2022, it sent shock waves around the world. Not only did it trigger widespread tsunami waves, but it also spewed a huge amount of climate-warming water vapor into Earth's stratosphere.
Now researchers in a new report have revealed something else: the eruption triggered more than 25,500 lightning strikes in just five minutes. In just six hours, the volcano fired nearly 400,000 lightning strikes. Half of all the lightning in the world was concentrated around this volcano at the height of the eruption.
The "cataclysmic eruption" shattered "all records", according to the report from Vaisala, an environmental monitoring company that tracks lightning around the world.
"This is the most extreme concentration of lightning we have ever detected," Chris Vagasky, meteorologist and lightning expert at Vaisala, told CNN. "We've been detecting lightning for 40 years now, and it really is an extreme event."
Vaisala's annual report revealed that 2022 was a year of extremes for lightning. Lightning increased in the United States in 2022, with more than 198 million lightning strikes – 4 million more than observed in 2021 and 28 million more than in 2020.
"We are continuing an upward trend in lightning," Vagasky said.
The World-Wide Lightning Location Network, another lightning-monitoring network run by the University of Washington, which is not involved in the report, said Vaisala's findings on global lightning as well as the volcano Hunga are consistent with their own observations.
"We can do this because the strongest flares generate lightning and the lightning sends detectable radio signals around the world," network director Robert Holzworth told CNN. "The Hunga eruption was absolutely awe-inspiring in its flash activity."
The researchers used lightning as a key indicator of the climate crisis, as the phenomenon usually signals warming temperatures. Lightning occurs during energetic thunderstorms associated with an unstable atmosphere, requiring relatively warm and humid air, which is why they mainly occur in tropical latitudes and elsewhere during the summer months.
But in 2022, Vaisala's National Lightning Detection Network detected more than 1,100 lightning strikes in Buffalo, New York, during a devastating lake-effect snowstorm that dumped more than 30 inches of snow. in the city, but piled historic totals of more than 6 feet in surrounding suburbs along Lake Erie. Lake effect snow occurs when cold air blows over warm lake water, in this case the Great Lakes. The large temperature difference can cause extreme instability in the atmosphere and lead to thunderstorm-like lightning strikes, even during a snowstorm.
The report noted that many of those flashes happened near wind turbines south of Buffalo, which Vagasky said was significant. He explained that clouds filled with ice crystals were lower than usual, scraping just above the turbine blades.
"It can cause what's called self-initiated ascending lightning," Vagasky said. "So the lightning happens because you charged at the tip of that wind turbine blade that's very close to the base of the cloud, and it's very easy to get a connection from the electrical charge."
This is an area of ​​ongoing research, he said, as the country moves toward cleaner energy alternatives.
"We're seeing bigger and bigger wind turbines, and certainly as we put in more and more wind power and renewable energy, lightning is going to play a role in that," he said.
The report comes after an unusual year in 2021 when they found that lightning strikes increased dramatically in the usually frozen Arctic region, which scientists say is a clear sign of how the climate crisis is changing the global climate.
"Lightning in the polar regions was not mentioned [in this year's Vaisala report], but our global lightning network shows a trend for much more lightning in the northern polar regions," Michael McCarthy, associate research professor and associate director of the World Wide Lightning Location Network, told CNN. "This trend closely tracks the average temperature changes seen in the Northern Hemisphere.
"This close tracking suggests, but does not prove, an effect of climate change," McCarthy added.
Vagasky said lightning in colder areas will only get stronger as the planet warms, noting that meteorologists and climatologists have been collecting more data not only to clarify climate connections, but also to ensure the peoples' security.
"That's why they named lightning a critical climate variable," he said, "because it's important to know where it's happening, how much is happening, and so you can see how thunderstorms evolve due to climate change.