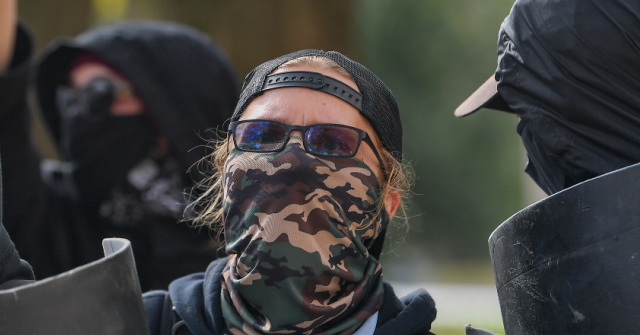 Far-left protesters rioted in downtown Atlanta on Saturday night, setting fire to a police cruiser and smashing storefront windows.
The protest reportedly began as a "mostly peaceful" protest in response to the death of 26-year-old activist Manuel Teran, who was killed during a police sweep on Wednesday "in what the Georgia Bureau of Investigation called a exchange of gunfire with police that injured a state trooper," according to the Atlanta Journal-Constitution (AJC). The soldier remains unidentified and is believed to be in stable condition after being taken to hospital for surgery.
Before the riots, protesters chanted "No justice, no peace, no murderous police" and "Arrest the city of cops," which refers to the name of the Atlanta police training site.
They also chanted 'Stop the police terror', 'Free the activists' and 'Drop the charges', referring to how at least seven other people were arrested and charged with domestic terrorism in the operation. Wednesday's policing in South DeKalb Woods," the AJC noted.
One person also attempted to chant "If they build it, we'll burn it down," in reference to the city's plans to "build a police and fire training facility on several acres of wooded land in DeKalb County. ".
The protest ended up turning violent, with a police car set on fire while businesses were robbed. Police responded to several instances of property damage along Peachtree Street. The Atlanta Police Foundation also had its glass doors shattered.
Antifa is burning Atlanta right now pic.twitter.com/UH3H8CVV6X

— TikTok Libs (@libsoftiktok) January 22, 2023
.@FOX5Atlanta draws a "largely peaceful protest" from CNN in its news segment about the violent attack on downtown Atlanta by #Antifa & far-left extremists. The mayor has just confirmed that those arrested were found with explosives. pic.twitter.com/wulkxaHL95

— Andy Ngo 🏳️‍🌈 (@MrAndyNgo) January 22, 2023
"Several arrests have been made at this time and order has been restored to the downtown area. This is still an active and ongoing investigation and we will not be able to provide details on number of arrests or property damage, at this time," the Atlanta Police Department told reporters.
Mayor Andre Dickens also told a police conference: 'Thank you for the quick action of our public safety officials working together, order was restored quickly.'
"The City of Atlanta and the Atlanta Police Department will not, Won't do tolerate this and continue to protect the right to peaceful protest. We will not tolerate violence or the destruction of property," he added.