IIt's a bright autumn morning in Dalby Forest and the light casts mottled patterns on the leaf covered ground as my sister Lisa zooms by on her bike. I catch up with her and we stop to admire the view and discuss which direction to take.
Nothing particularly unusual about that, perhaps, except that Lisa has been in a wheelchair for nearly 10 years after a spinal cord injury left her paralyzed from the waist down, and this is the first time that we have been walking in nature ever since.
Using an adapted e-bike from Dalby Forest Cycle Hub, we can spend a morning cycling on trails that wind through the 3,200-hectare (8,000-acre) forest, with hub owner Rob Brown as guide.
We had come to North Yorkshire to see just how much outdoor adventure was possible, testing the work of the new North York Moors National Park accessibility project. Eight attractions and four accommodation providers in the region have worked with Visit England to develop access and provide disability awareness training for staff. As Lisa's disability affects her mobility, the project meets a range of needs, from autism to sensory impairments.
"We want to make the national park as accessible as possible for people with different needs," said project manager Rachel Gillis. "We chose organizations that were already working on accessibility and wanted to do more. We looked at what was right and wrong, and helped with development plans, accessibility guides, training, and funding. This is a pilot project that we hope to roll out across the country.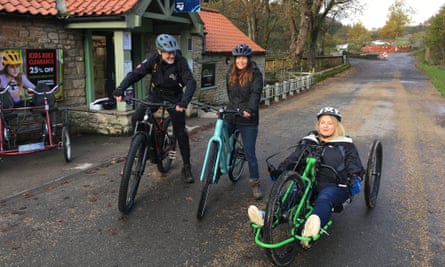 Rob's enthusiasm for opening up the bike forest experience is evident when he tells us about the types of adaptive bikes he offers. Among them are a "side-by-side" tandem, useful for people with visual difficulties or reduced mental abilities, and recumbent e-trikes, good for people with balance problems. The right bike for Lisa is the battery-assisted Sport-on XCR handcycle, designed for cross-country use by those with some upper-body strength.
"It's all about inclusion. We want to give people the opportunity to come to a beautiful place and really experience it," says Rob. "We can help people with all kinds of requirements, from those recovering from stroke to those with dementia."
We headed out into the woods and it didn't take long for Lisa to feel comfortable in the saddle and get used to being closer to the ground. "I love the feeling of freedom," she says. I love cycling alongside him: it's something we haven't done for a very long time.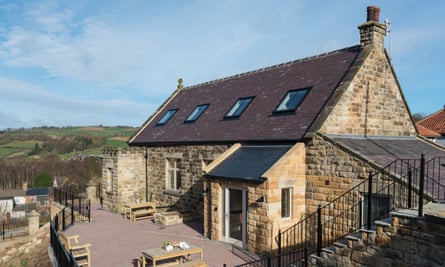 Our base for the trip is Sunday Cottage at Grosmont (sleeps five, seven nights from £525), reached after a lovely drive through moorland. Owners Rod and Jill Hodgson have converted a former Methodist chapel and Sunday school into four cottages, and ours has been carefully designed for wheelchair users, with the needs of their own daughter, who has cerebral palsy, in mind. It is a charming place and more than well equipped, with an accessible bedroom and a private bathroom on the ground floor.
Grosmont is a stop on the North Yorkshire Moors Railway, which is one of the attractions involved in the scheme, with several accessible carriages. It is not operating during our November visit so we continue our adventure to the center of Sutton Bank National Park an hour away. A new level crossing from the center has made the spectacular three-mile White Horse Walk easier for people with reduced mobility and it is one of four sites around the North York Moors where trampers – mobility scooters electric off-roaders – can now be hired.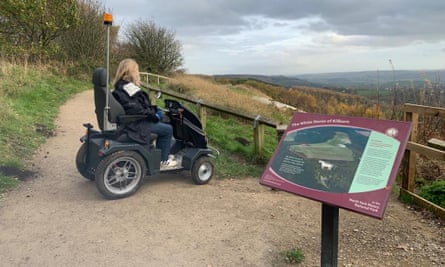 We are soon up the escarpment enjoying the panorama of the big sky over Hood Hill and Gormire Lake – the tramper allows us to go further and tackle much more difficult terrain than a wheelchair. Another accessible route to 'the finest view in England' runs from the center and there are plans to open more soon.
Dalby Forest now has two trampers (two mobility scooters are also available) and the next day we return to explore more – this time on a forest bird sound safari (£35 for half a day) with Richard Baines, conservationist and owner of Nature of the Yorkshire Coast. We venture into the woods, stopping frequently to listen to Richard share his knowledge of birdlife. "We swap the priority sense from sight to hearing; it's an immersive and very mindful experience," says Richard. "It's a different way for people to engage with their environment and it's especially good for people with visual impairments."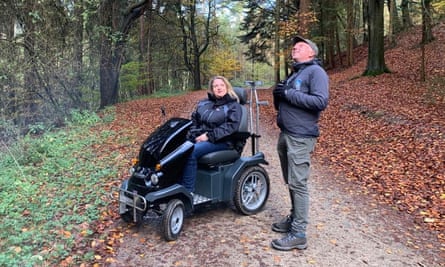 It's completely engrossing: we listen to the foraging flocks move through the forests and learn about the characters and calls of different birds, from the alarm call of the wren to the high-pitched contact call of the chaffinch. .
Our route takes us past Whitby Abbey in time to catch the sunset. The impressive ruins are easily accessible by elevator, and wheelchair users can approach via ramps and flat terrain (wheelchairs are available on site). The wider site is grassy with no paths, making some areas difficult to navigate, but it's enough to soak up the atmosphere and views.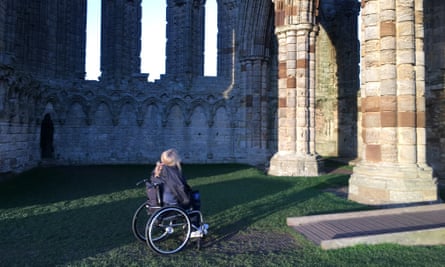 One of the biggest issues travelers with disabilities face is getting the right information in advance to ensure a smooth trip. "The time you spend planning and researching is frustrating," says Lisa. The aim of the project to facilitate the search for detailed information is therefore welcome.
The next day we visit the open-air folk museum at Ryedale in picturesque Hutton-Le-Hole, knowing that the grounds and heritage buildings such as the medieval mansion will work for us (and wheelchairs and mobility scooters are available if needed). On the way back we stop at Helmsley Walled Garden under the ruins of the castle. Run as a charity and staffed largely by volunteers, it was created to be a place of sanctuary for visitors, with an emphasis on therapeutic horticulture. The formal gardens are easy to navigate and there are suitable picnic benches for warmer days (we headed to the cafe for a hot chocolate instead).
The last time Lisa and I traveled together was for a girls getaway to Barcelona in 2012. This trip was different but equally fun, giving us the opportunity to hang out and explore new places together. We return home with Lisa wondering about the accessibility of nature near her home in Nottingham, and me pondering where our next sibling adventure might be.
The trip was provided by Visit England. Tramper hire is available at four locations in the North York Moors. First– occasional users must follow a short training session to become a (£10) or temporary member (£2.50). Membership gives access to trampers at Lake District sites and all Countryside Mobility sites in south-west of England. Dalby Forest cycle Hire costs from £19 for an adult adapted bike. Other accessible accommodation includes the Inn on the Moor hotel (lunch and dinner also for non-guests). For more information on accessible travel in England, visit visitengland.com/accessforall