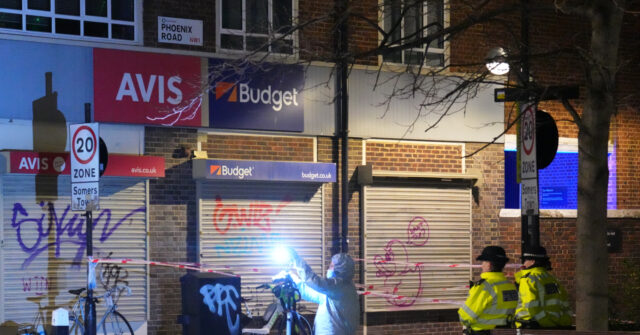 A seven-year-old girl has been fighting for her life after she was shot in what was believed to be a drive-by shooting outside a church in central London.
A shooting outside a memorial service at St Aloysius Church in Euston on Saturday left six people injured. Among the victims were a 12-year-old child and a seven-year-old child, who are believed to still be in a "life-threatening" condition.
Four women, aged 21, 41, 48 and 54 were also injured in the shooting, with the 48-year-old reportedly sustaining life-changing injuries.
In a police statement, Superintendent Ed Wells said: 'Any shooting incident is unacceptable, but for several people, including two children, to be injured in a shooting in the middle of a Saturday afternoon is shocking.
"Our hearts go out to all the victims, but in particular to the seven-year-old girl whose life is in danger and her family.
"An investigation into this terrible attack is already underway involving local officers and specialist detectives. I can assure communities in Camden and beyond that we will do everything we can to identify and bring to justice those responsible.
UPDATE: We have now confirmed that six people were injured in a shooting in Phoenix Road, NW1 earlier this afternoon.

Among them is a seven-year-old girl who is hospitalized in a life-threatening condition.

An urgent investigation is underway. https://t.co/s7hlgDQ4dE

— Camden Police (@MPSCamden) January 14, 2023
Speaking to the BBC, Father Jeremy Trood, who led the memorial service for a leukemia victim and his mother, said: 'I was inside the church. I heard the noise and people ran towards the church. They knew something had happened outside.
"They were very scared, people took shelter in the church until the police told them they could leave, but some of them were so scared that they had to wait a while to regain their confidence. in them to come out."
Another witness, Jaouida Ifghallal, told local media MyLondon: "When the service ended, we were outside to see the flight of doves… A black car came and started firing bullets. It was chaotic. »
London Mayor Sadiq Khan said he was in contact with Met Police over the shooting, which he described as "deeply disturbing".
In each year of Khan's tenure, the British capital has seen more than 100 homicides. Last year there were 109 recorded murders in London, including nine shootings, as well as 69 fatal stabbings. Of the 109 homicides, 14 of the victims were teenagers.
Rather than take responsibility himself, London Mayor Sadiq Khan has tried to blame the crime wave ravaging the British capital on the cost of living crisis, after previously blaming the weather. https://t.co/Ld7bSLXAp6

— Breitbart News (@BreitbartNews) August 21, 2022
Follow Kurt Zindulka on Twitter here @KurtZindulka