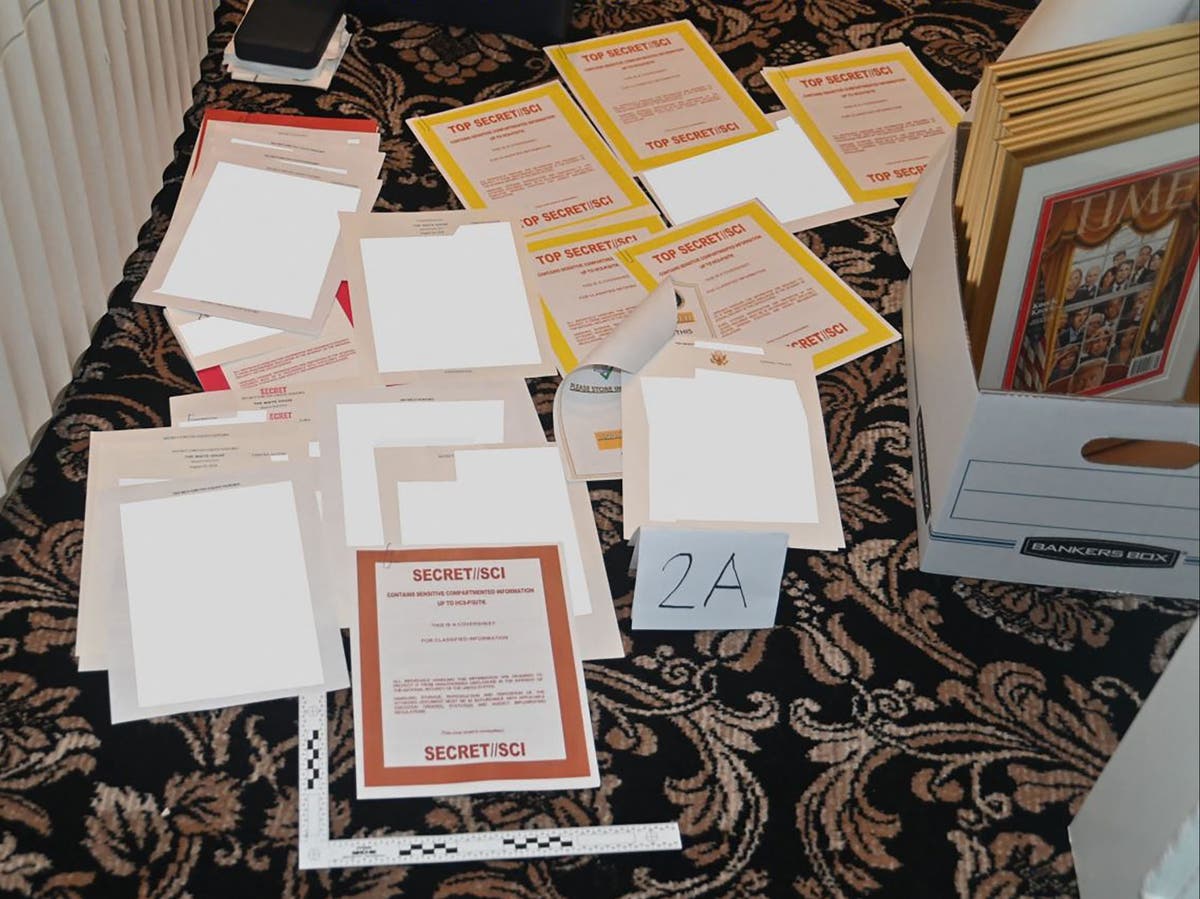 To hear Republicans react to reports that lawyers working for President Joe Biden discovered — and promptly reported — the presence of documents bearing classification marks at a Washington DC think tank where he kept an office before kicking off his 2020 presidential campaign, you'd think Christmas came at the start of the new year.
Georgia Rep. Marjorie Taylor Greene, a staunch defender of former President Donald Trump, immediately took to right-wing host Tucker Carlson's Fox News program to say Attorney General Merrick Garland "should be impeached" if Mr. Garland is not treating Mr. Biden the way Mr. Trump was treated after refusing to return classified documents he took home to Florida before leaving office.
Since his term ended in January 2021, the National Archives and the Justice Department have been pushing Mr. Trump to return documents he took from the White House, some of which would have been classified as "top secret" or higher. .
The back and forth culminated in the FBI's search of Mr. Trump's Florida home on August 8, when special agents recovered more than 100 such documents. Between the documents found in the search, another installment returned in response to a grand jury subpoena, and the contents of 15 other boxes returned to the National Archives in January 2022, Mr. Trump is said to have been in possession of more than 300 documents classified long after its ability to lawfully possess national defense information has expired.
A Justice Department special counsel, Jack Smith, is overseeing an investigation into whether Mr Trump violated US laws governing the handling of national defense information by hoarding the documents.
Most legal experts and intelligence veterans believe the ex-president faces considerable legal peril because of Mr Smith's investigation.
And while the GOP didn't want to criticize Mr. Trump, they jumped on the news of the discovery of a dozen intelligence memos and briefing documents in an office Mr. Biden used at the Penn Biden Center. , a think tank in Washington. A second set of documents was reportedly recovered from another location linked to the president during a follow-up search, multiple outlets reported Wednesday.
Republicans have portrayed Biden's findings as an equivalent offense that can be used to claim Mr. Trump is singled out for political reasons.
The former president's eldest son, Donald Trump Jr, expressed the line that many Republicans took following the revelations in a Twitter post on Tuesday, writing, "Biden has retained classified documents from the Obama administration that he would not have had as vice president. the ability to declassify and I have yet to hear about the FBI Hostage Rescue Team raiding one of his homes? Why the double standard?
House Majority Leader Steve Scalise, a Republican from Louisiana, suggested the media was already giving Mr. Biden the kid-glove treatment at a press conference on Tuesday.
"If then-Vice President Biden took classified documents with him, kept them for years, and criticized former President Trump during the same period he had those classified documents…I wonder why? the press doesn't ask him the same questions," he said.
In fact, the press asked about it when Mr. Biden appeared for a bilateral meeting with Canadian Prime Minister Justin Trudeau in Mexico City, but the president refused to answer their questions.
Another leading Republican, incoming House Intelligence Committee Chairman Mike Turner of Ohio, has asked the Office of the Director of National Intelligence to conduct an assessment to determine whether the discovery of documents in the Mr. Biden's former office indicates harm to U.S. interests.
In a letter to DNI Avril Haines, Mr Turner warned that Mr Biden could be "in potential violation of laws protecting national security", such as the Espionage Act and the Presidential Records Act.
"Those in charge of accessing classified information have a duty and an obligation to protect it. This issue requires full and thorough consideration," he said.
Yet despite the seemingly cheerful way Republicans are reacting to news that Mr. Biden or someone working for him may have packed classified documents into a locked office cupboard six years ago, there is a essential difference which they lack.
When Mr. Biden made his discovery on Nov. 2, his first call was to the National Archives, which under the Presidential Archives Act would have been the proper repository for all Obama-Biden administration records.
According to the President's special adviser Richard Sauber, the Archives recovered the documents the next day.
Legal experts say that fact alone not only differentiates Mr. Biden's case from Mr. Trump's, but it actually makes it much more likely that Mr. Trump will be indicted for his conduct.
Mr. Trump never once attempted to tell the Archives what he took home to Florida after leaving office. It took Nara a full year after his term ended to reach an agreement for the ex-president to return 15 boxes of documents, and only then did archivists uncover classified documents among those who had been brought from Florida.
According to court documents, Mr. Trump and his aides actively resisted returning more documents until they were presented with a grand jury subpoena, then turned over another installment last June.
But resistance to returning what was rightfully government property continued for months, leading the Justice Department to ask a magistrate for a search warrant at the ex-president's home after developing evidence showing he lied about handing everything over to the government.
While Mr. Biden's lawyers quickly informed the government that they had discovered potential national defense information among documents from his former office, Mr. Trump refused to return similar information after being asked to return it. .
It is this refusal which, according to experts, could make the ex-president responsible for having violated a criminal law which makes anyone who "deliberately preserves" national defense information and "fails to provide it upon request to the officer or employee of the United States entitled to receive it" at the risk of being imprisoned for ten years on each count.
In an interview with Initiated, National security lawyer Bradley Moss said Biden's lawyers "did exactly what you're supposed to do" if you discover any documents with classification marks.
"When you find classified documents improperly stored, you immediately notify the government – and immediately turn them over," he said. "The reason Donald Trump is in criminal danger right now isn't just because the documents aren't stored properly. It was the obstruction – that's why it got to the point where it is. , where we examine the real possibility of a criminal charge".