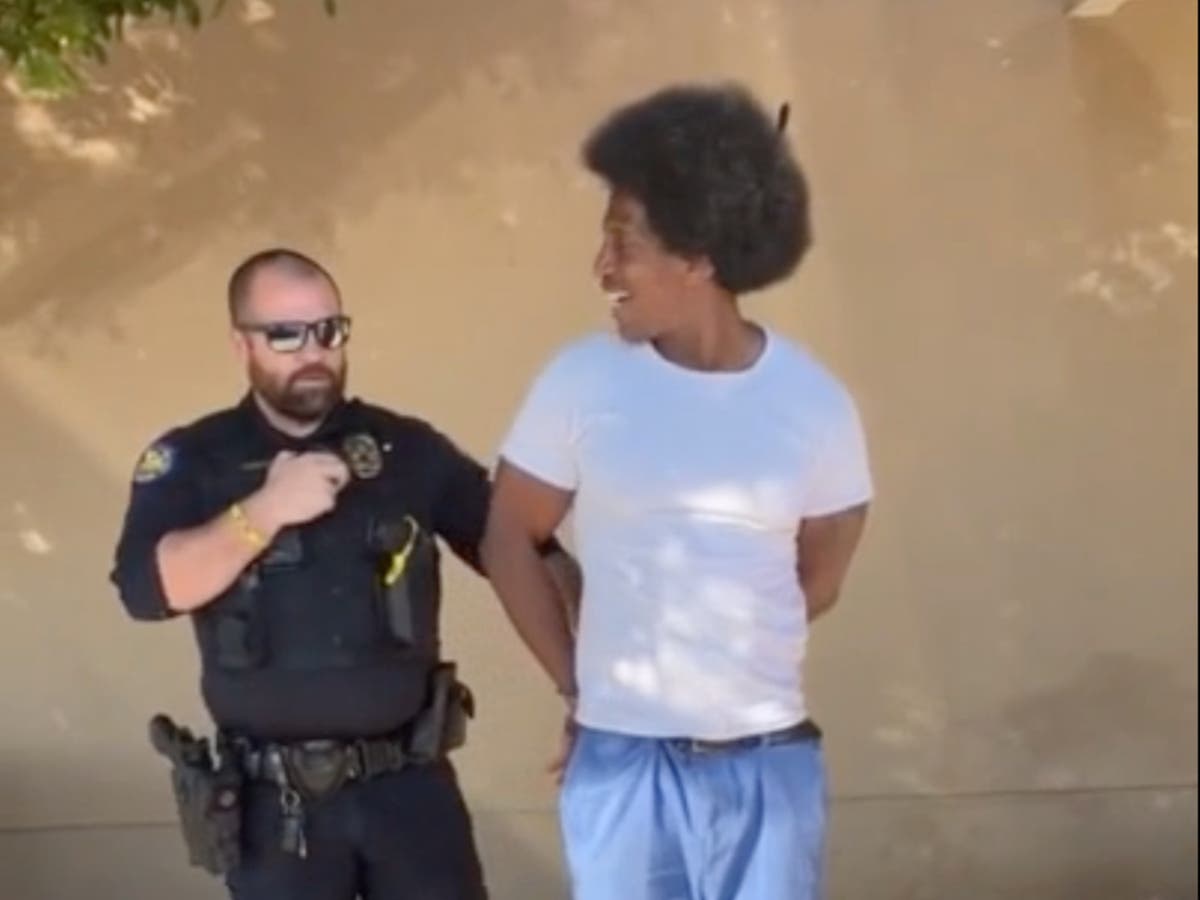 Dion Rabouin, a black journalist who was handcuffed and detained while reporting outside a bank in November last year, has recounted scores of times that he was mistreated by police – from the age of four.
Rabouin, who works as a financial journalist for the the wall street journalwrote a Twitter thread on Monday about the chilling encounters he had with police detailing how he was subjected to harrowing mistreatment by law enforcement.
"The Phoenix incident was not the first time I was harassed and/or detained by police for seemingly no reason. It's just the first time anyone notices it. And I'm grateful," Rabouin wrote, referring to the November incident where he was stopped from appearing outside a bank by Phoenix police.
"This time, the bank that called the police about me called to apologize, and the mayor of the town where it happened personally emailed me to apologize and make sure that a full investigation is underway. But I've been through this all my life," he continued.
Rabouin explained how his first encounter with the police was when he was four years old.
"My dad used to let me sit on his lap while he drove. I pretended to drive and it was my favorite thing in the world. The last time it happened we were pulled over by an officer.
"He told my dad he couldn't do this. My dad told the officer he didn't know he couldn't have his son on his lap while driving. The officer lowered his sunglasses and asked him: 'Are you stupid or what?'
"'No,' replied my father. "I just didn't know."
"'Yeah, maybe you're stupid,' the officer said. 'Don't do it again.' My dad had this look of sadness, fury and helplessness on his face that I had never seen before," said the WSJ journalist.
He detailed another incident that occurred when he was seven years old. Rabouin had called the police after his father "who had anger issues" hit him, after which, thinking the dispatcher was going to help him, instead sent two officers who "grabbed me and pulled me , screaming and crying, out of the building and into the back of a police car".
"Lying to the police was a crime," they said. After talking with my dad for a while, they finally let me out of the car and told me I was free to go," he continued.
In another incident, Rabouin said police arrested him and his friend when he was a teenager, searched them twice and questioned them unreasonably, despite the explanation given that they were outside their own high school.
"My friend started shaking in fear as he was searched. The officer pushed him against the car. 'What are you hiding?' he ordered.
"He's just scared," I said.
If he has nothing, he has nothing to fear.
"He's never dealt with the police before," I replied.
The reporter also recounted two other incidents.
Rabouin received many encouraging responses on his Twitter feed.
"Dion, in our conversations, you have always been the epitome of the professional. I'm sorry you were treated this way simply for doing your job," analyst Kathy Jones wrote.
"I have read this and feel the anger boiling inside me. At no time does there appear to be probable cause to search your vehicle(s) which is a violation of the 4th Amendment," another user said. .
The the wall street journal asked the Phoenix Police Department last week to conduct an internal review and ensure the protection of the constitutional rights of its reporters.
The newspaper's editor pressed Phoenix Police Chief Michael Sullivan in a letter after Rabouin was filmed being placed in the back of a police cruiser in November of the year last.
In a letter dated December 7, Editor-in-Chief Matt Murray wrote that he was "appalled and concerned" that department officers were "attempting to interfere with Mr. Rabouin's constitutional right to do journalism and purporting to limit the presence of anyone in a public place".