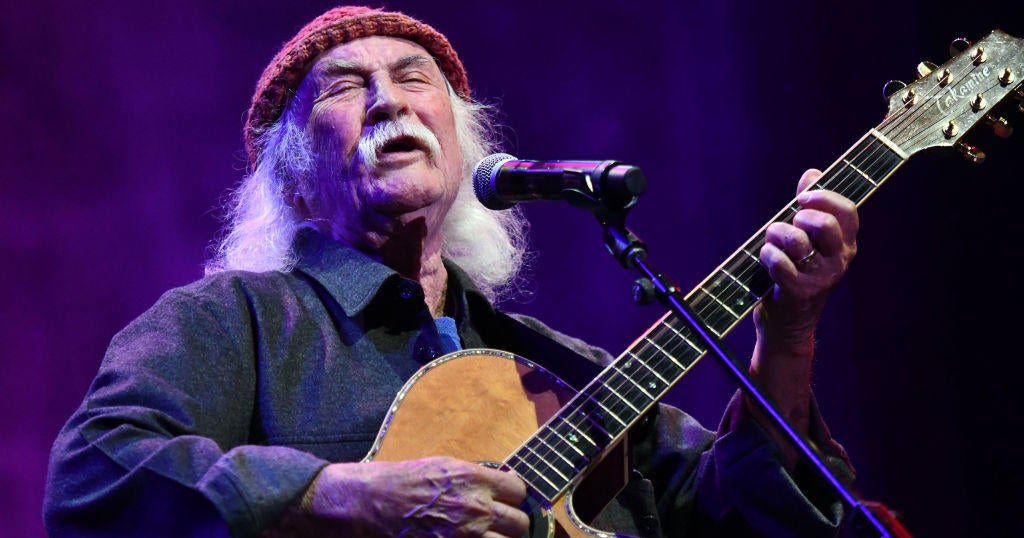 David Crosby, the influential singer-songwriter who co-founded The Byrds and Crosby, Stills & Nash, has died, his rep confirmed to Variety. He was 81 years old.
Crosby's iconic career spanned seven decades. He has written or co-written several fan favorites with each of his bands, including "Eight Miles High" for The Byrds, "Wooden Ships" for Crosby, Stills & Nash, and "Almost Cut My Hair" for Crosby, Stills, Nash & Young, the iteration of CSN that included Neil Young.
He has released eight solo albums, two of which – 1971's "If I Could Only Remember My Name" and 2014's "Croz" – entered the Billboard 100 charts.
Crosby first achieved success with the Byrds in 1965 when the band scored a number one hit with their cover of Bob Dylan's "Mr. Tambourine Man." But in 1967, amid growing tension between Crosby and his bandmates, including anger over his stage appearance with Buffalo Springfield at the Monterey Pop Festival, he was fired from the Byrds.
He soon joined Stephen Stills of Buffalo Springfield and Graham Nash of the Hollies to form CSN. The group's self-titled debut was well received, earning favorable reviews and peaking at number six on the Billboard charts. Two of the album's singles, "Marrakech Express" and "Suite: Judy Blue Eyes" also entered the Top 40 on the charts. The trio also won the Grammy Award for Best New Artist in 1970.
Neil Young, whom Crosby had replaced at the Monterey Pop Festival, joined the band in 1969, prompting them to change the band's name to CSNY. Their second live performance was at the Woodstock Music Festival in 1969. Crosby announced to the crowd, estimated at 500,000, "This is our second gig." Stills followed that up by informing the audience, "We're less scared."
The group released the album "Deja Vu" in 1970, which reached number one on the Billboard pop charts and spawned three more Top 40 hits.
In May 2021, Crosby, Stills and Nash spoke to "CBS Sunday Morning" ahead of the expanded 50th anniversary release of "Déjà Vu."
Crosby said the band began recording the album after his girlfriend, Christine Hinton, died in a car accident.
"I was in terrible shape," Crosby said. "I was almost destroyed. I'm really lucky that we made this record, because it gave me a sense of purpose."
"That's what kept me alive," he added.
"It is with deep and profound sadness that I learned of the passing of my friend David Crosby." Nash wrote Thursday on Facebook. "I know people tend to focus on the volatility of our relationship sometimes, but what has always meant to David and me more than anything is the sheer joy of the music we've created together, the sound what we have discovered with each other, and the deep friendship we have shared over all these long years. David was fearless in life and in music. He leaves behind a huge void when it comes to personality and talent in this world. He expressed his mind, heart and passion through his beautiful music and leaves an incredible legacy. These are the things that matter most. My heart is truly with his wife, Jan, his son , Django, and all the people he touched in this world.
Despite several attempts, neither CSN nor CSNY would record another studio album together until "CSN" in 1977, which reached No. 2 on the Billboard Pop chart. Crosby would continue to record with Nash, however, and the duo released three albums in the 1970s, 'Graham Nash David Crosby', 'Wind on the Water' and 'Whistling Down the Wire', all of which were certified gold by the Recording Association. of American industry. Crosby & Nash's last album, self-titled "Crosby & Nash", was released in 2004.
Crosby, Stills, Nash and Young would continue to reunite in various configurations over the next few decades, releasing studio albums and tours, including a full-fledged reunion of all four members for a short tour in 1974 which Crosby would eventually join. refer. like the "Doom Tour".
In recent years, Crosby has often turned and candidly answered questions on Twitter with a mixture of affection and exasperation, whether commenting on rock stars or evaluating the quality of the marijuana joint of a fan. He loved sailing and his biggest regret, besides hard drugs, was selling his 74ft boat due to money issues. Among the songs completed on the boat was the classic "Wooden Ships", co-written with Paul Kantner of Stills and Jefferson Airplane.
Crosby was born David Van Cortlandt Crosby on August 14, 1941 in Los Angeles. Her father was Oscar-winning cinematographer Floyd Crosby of "High Noon" fame. The family, including her mother, Aliph, and her brother, Floyd Jr., later moved to Santa Barbara.
Crosby was exposed to classical, folk and jazz music early on. In his autobiography, Crosby said that as a child he used to harmonize while his mother sang, his father played the mandolin, and his brother played the guitar.
"When rock 'n' roll came around this time and the age of Elvis owned America, I wasn't into it," he recalls.
His brother taught him to play the guitar and, still a teenager, he began to perform in clubs in Santa Barbara. He moved to Los Angeles to study acting in 1960, but gave up the idea and became a folk singer, working across the country before joining The Byrds. Like so many folk artists, Crosby was blown away by the Beatles' 1964 film "A Hard Day's Night" and decided to become a rock star.
Crosby married longtime girlfriend Jan Dance in 1987. The couple had a son, Django, in 1995. Crosby also had a daughter, Donovan, with Debbie Donovan. Shortly after undergoing the liver transplant, Crosby reunited with Raymond, who had been placed for adoption in 1961. Raymond, Crosby and Jeff Pevar then performed together in a band called CPR.
"I regretted losing him many times," Crosby told the AP of Raymond in 1998. "I was too immature to parent anyone, and too irresponsible."
Crosby is also the biological father of singer-songwriter Melissa Etheridge's children whom she shares with ex-partner Julie Cypher, she revealed in 2000. Cypher carried the children Crosby fathered through artificial insemination, Etheridge told Rolling Stone. A son, Beckett, died in 2020.
Crosby didn't help raise the kids but said, "If, you know, in due time, remotely, they're proud of who their genetic father is, that's great."
Etheridge wrote on Facebook on Thursday that she was "mourning the loss of my friend and Bailey's biological father, David. He gave me the gift of family. I will be forever grateful to him, Django and Jan. His music and his legacy will inspire many generations to come. A real treasure."