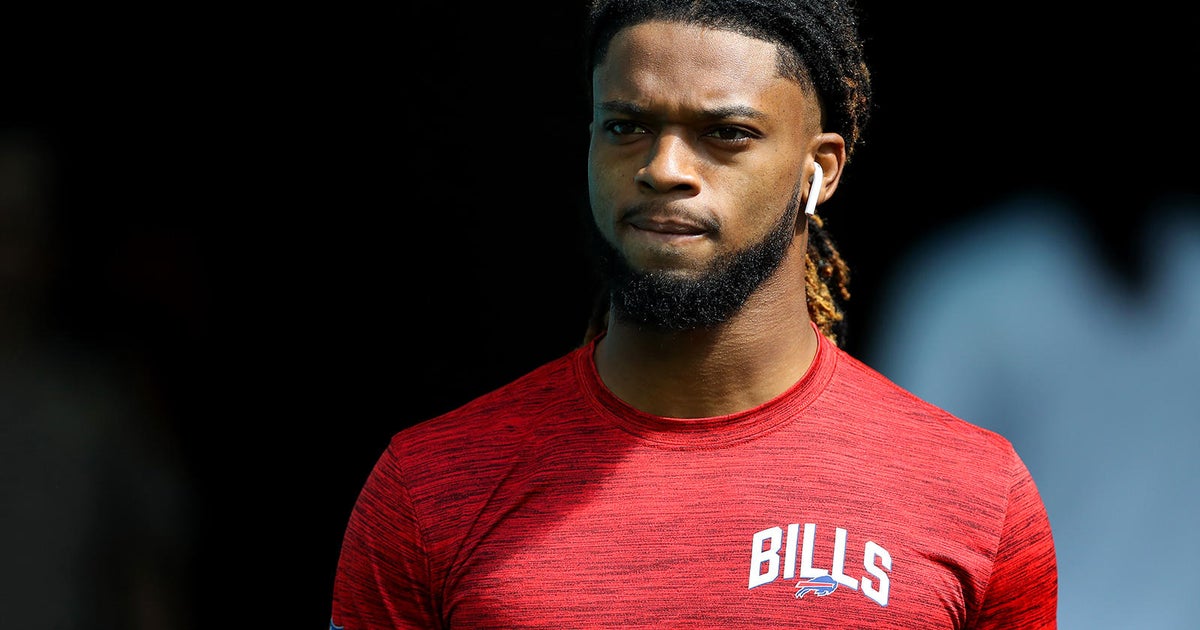 Buffalo Bills safety Damar Hamlin who collapsed on the ground after suffering cardiac arrest during a game last week, was released from New York hospital where he was admitted on Monday.
Hamlin, 24, was initially admitted to the University of Cincinnati Medical Center and remained there in critical condition for days after the collapse, which happened Jan. 2 as the Bills faced the Bengals of Cincinnati during Monday Night Football. While completing a tackle in the first quarter, Hamlin appeared to take a hit to the head and chest from Bengals wide receiver Tee Higgins.
The collision temporarily stopped Hamlin's heart, the Bills later said, and he was immediately given CPR before being rushed to hospital. As Hamlin's condition improved, he was transferred from Cincinnati to another hospital in Buffalo on Monday. The Bills confirmed he was released after undergoing "a full medical evaluation" in a statement shared on Twitter Wednesday morning.
"Damar Hamlin is discharged from Buffalo General Medical Center/Gates Vascular Institute, a Kaleida Health facility in Buffalo, NY," the statement read. "Hamlin was admitted on Monday and underwent a full medical evaluation as well as a series of cardiac, neurological and vascular tests on Tuesday."
The statement also included comments from Jamie Nadler, critical care physician and director of quality at Kaleida Health, who led Hamlin's care team during his hospitalization.
"We have conducted a series of tests and evaluations, and in consultation with team physicians, we are confident that Damar can be safely released to continue his rehabilitation at home and with the Bills," said Nadler, according to the team.
Hamlin's condition was listed as critical for several days following his initial hospitalization in Cincinnati, news of which quickly sparked an outpouring of public support from teammates, fellow athletes and the NFL player's fans. On Thursday, his health had taken a turn and the Bills announced that Hamlin had "shown remarkable improvement" over the previous 24 hours.
"Although still critically ill, he has demonstrated that he appears to be neurologically intact," the Bills said at the time. "His lungs continue to heal and he is making steady progress."
When Hamlin was released from the University of Cincinnati Medical Center and transferred to Buffalo, a statement attributed to the hospital and tweeted by the Bills confirmed he was "doing well", calling the athlete's transfer "the next step in his recovery".
Hamlin himself took to social media with his own post on Monday.
"Drove home to Buffalo today with lots of love in my heart," he wrote in a Tweeter which listed Buffalo, New York, as the location.
"Seeing the world gather around me on Sunday was truly an incredible feeling," Hamlin continued. "The same love you all showed me is the same love I plan to give back to the world and more. Bigger than football!"
The exact cause of Hamlin's cardiac arrest is still unclear. A day after his collapse, CBS News medical contributor Dr. David Agus explained that blunt force trauma to his chest "in the right place, at the right time during his heartbeat" could have caused an arrhythmiawhich is an irregular heartbeat that disrupts blood flow to the brain.
Hamlin joined the Bills in the 2021 NFL Draft, after a successful career in college football at the University of Pittsburgh, and played 14 games during his rookie season in a reserve role. The current NFL season is Hamlin's first as a starter for the team.