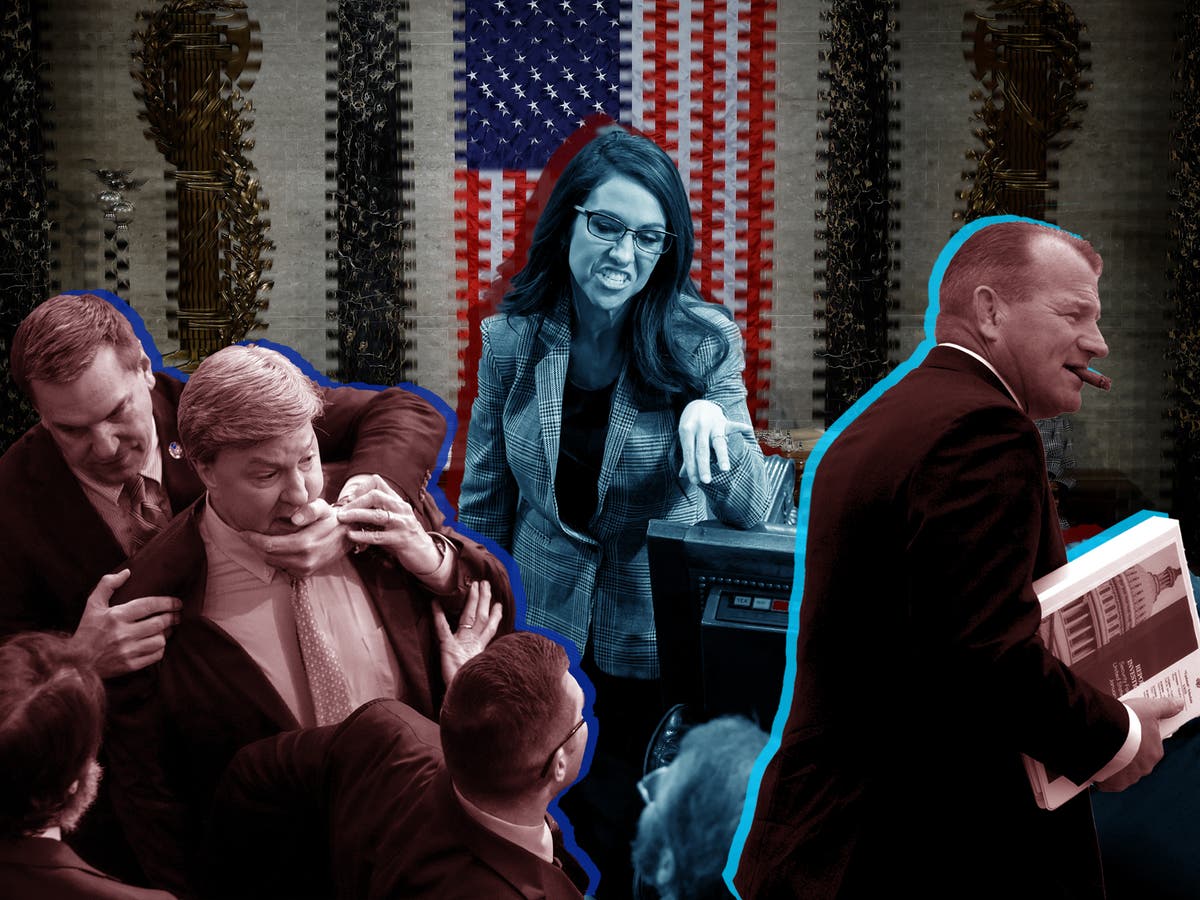 JThis week, as many Republicans walked into the House chamber, they often jokingly raised their arms, mimicking the way they had to raise them when passing through metal detectors last year. At the last Congress, these magnometer checks were compulsory.
The GOP anti-metal detector crusade has been going on for a while. Last year, when I was trying to catch Lauren Boebert for a question, she maneuvered around me — and around the magnetometers — to go vote. It was a small but significant act of rebellion.
Boebert was notably part of a group of insurgent Republicans who opposed McCarthy's nomination for president. But this week, the Republican congresswoman from Colorado – who once ran a restaurant in the town of Rifle where waitresses carried guns – welcomed the fact that she no longer had to go through magnetometers, telling a colleague Republican: "It's almost like America".
Most Republicans resented having to go through the metal detectors that were put in place after the Jan. 6 riot, even though they would face fines if they bypassed them. Of course, many forget that the reason former President Nancy Pelosi put the magnetometers in place was because former Rep. Madison Cawthorn of North Carolina spoke publicly about being armed during the insurgency in United States Capitol.
Republicans left no stone unturned to remove Cawthorn from his seat in the primary in May last year. Magnetometers have now gone the same way as the wayward one-mandate MP.
Throughout the first two weeks of the House — in addition to the fact that there were no speakers for the first few days — the halls of Congress definitely had a different energy than when they were under Democratic control. I first moved to DC when Republicans controlled the House during the Tea Party era which saw conservative insurgents shove John Boehner. I also covered Congress when Republicans controlled the House, Senate, and White House during Donald Trump's presidency. I am no stranger to GOP-controlled spaces in government. But I recognize a weird energy when I feel one.
The House, teeming with 435 nonvoting members and delegates who represent all parts of the country, has always been far more feisty, childish, slanderous and sharp-edged than the country club of 100 that is the United States Senate. The contrast is now even more marked. Maybe it's because of who's still standing. Two years ago, a majority of the House GOP conference voted to oppose the election results, essentially trying to overturn a Democratic vote. Republicans who voted to impeach Trump or try to hold him accountable while in office are largely gone.
And the chaos surrounding the voting of presidents kicked off this new house in spectacular fashion. Rep. Marjorie Taylor Greene, who promoted conspiracy theories and spoke at a conference hosted by white nationalist Nick Fuentes, surprised everyone by siding with McCarthy. Florida Rep. Matt Gaetz stalled the vote with last-minute opposition and in the process nearly got into a fight with Alabama Rep. Mike Rogers.
Amidst this chaos, it emerged that Rep. George Santos, the newly elected Republican from Long Island, seemed to have made up his entire life story and resume. Santos lied about where he went to college, where he worked, whether he was Jewish (he isn't, despite apparently being "Jewish"), and made dubious claims on 9/11 "claiming the life of his mother", despite the fact that she died in 2016.
Unsurprisingly, the House has felt pretty much free-for-all most of the time over the past two weeks — even after a speaker was elected. The fact that the lower-key Senate did so immediately after the new senators were sworn in gave the House a lot of the feeling of a father handing the teenager the keys to the convertible for the weekend. Without any back-to-back votes for must-have legislation, they let the good times roll.
For most of the 117th Congress, Republicans complained about many of the rules put in place by Pelosi, such as allowing proxy voting during the Covid pandemic, which some have called unconstitutional. Others blew up when she reinstated a mask mandate during the Delta variant's build-up.
McCarthy therefore wanted to do away with proxy voting after taking control – despite the fact that many of his fellow Republicans used it regularly (Matt Gaetz used proxy voting more than 100 times last year, according to Business Intern.)
Ironically, a lack of proxy voting could have prolonged the vote for president. At one point during the final votes, the House had to delay because Rep. Ken Buck of Colorado had health issues and newly elected Rep. Wesley Hunt of Texas had returned home after the premature birth of his son.
Of course, the lack of a Speaker's vote meant that there were technically no rules in the House. Some members and staff have taken advantage of the rules-free environment by bringing their dogs to the Hill. Rep. Nancy Mace from South Carolina brought her dog Liberty (or Libby for short), a type of bichon known as a Bichon Havanese.
And then there was the return of literally smoky rooms. If there are no rules, there is also no smoking ban. Members smoked on the balconies of Congress as speakers voted after speakers voted. Reuters journalist Patricia Zengerle tweeted about the distinct aroma of cigar smoke in the hallways (and indeed new House Rules Committee Chairman Tom Cole, whose office isn't too far from the house floor, exudes the stench of his cigars.)
Rep. Troy Nehls of Texas, who I often see with a stogie in hand as he mounts the votes, tweeted in response, "It's called progress" with the hashtag #Freedom.
Of course, the party can't last forever. The House passed its set of rules this week. Now he mainly focuses on abortion courier bills. But on Friday, Treasury Secretary Janet Yellen sent a letter to McCarthy, warning that the United States would hit the debt ceiling next week. This sets him up for his first big fight with the GOP right flank.
McCarthy better hope that John Boehner, who liked to smoke camels in his office, left him a pack of cigarettes.