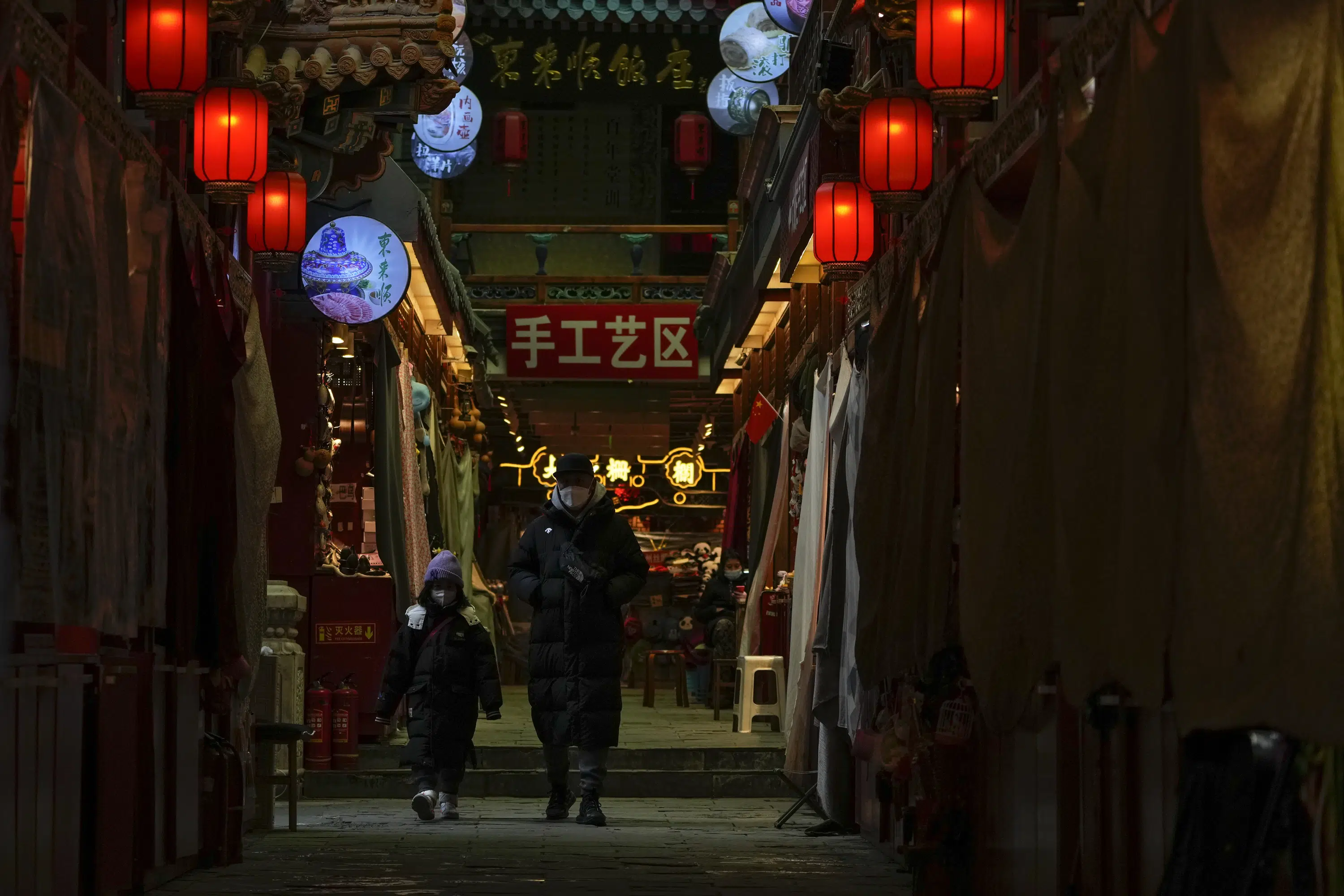 BEIJING (AP) — Wang Jian is eager to get back to work teaching children basketball now that China has lifted anti-COVID-19 restrictions. But his gymnasium in the eastern city of Shenyang has been closed for a month because all of his trainers are infected.
The most optimistic forecasts indicate that business and consumer activity in China could pick up as early as the first quarter of this year. But before that happens, entrepreneurs and families are facing painful pressure from a rise in virus cases that has left employers without enough healthy workers and kept wary customers away from malls, restaurants, hair salons and gymnasiums.
"I hope the situation will turn around in March or April without more COVID shocks," said Wang, 33, who went without a paycheck for four months when the gym closed during the virus outbreaks. "If parents are worried about possible re-infection, they simply won't send their children for training."
The abrupt decision by President Xi Jinping's government to end controls that have shut down factories and kept millions at home will hasten the timeline for economic recovery, but could disrupt activity this year as businesses slump. are struggling to adapt, forecasters say.
"It will be a bumpy process," said Dong Chen, chief Asia economist at Pictet Wealth Management.
"People are still struggling with infections, but we think it might be temporary," Chen said. "Overall, we think it's a good surprise."
The decision to speed up the reopening of China is a boost for the global economy at a time when activity in the United States and Europe is weakening after repeated interest rate hikes by central banks to curb rising inflation.
This should help revive auto sales and boost demand for imported consumer goods, oil and food in China, one of the world's largest markets. Countries including Thailand with major tourism industries look forward to an influx of Chinese travellers.
The World Bank and private sector forecasters have cut estimates of China's economic growth last year to 2.2% due to the spike in infection that began in early October and defied the "zero- COVID" from Beijing to isolate each case. The International Monetary Fund expects a 4.4% recovery this year, but that would still be among the lowest levels in three decades.
"Zero-COVID" kept China's infection numbers low, but shut down Shanghai and other industrial cities last year for two months, disrupting manufacturing and shipping. Business groups have said global companies are moving their investment plans away from China because rules that require foreign visitors to quarantine for a week prevent executives from visiting.
The ruling party promised on Nov. 11 to cut costs and disruption. A series of surprise announcements rolled back travel and other restrictions that health experts and economists expected would persist until mid-2023.
On Sunday, Beijing began allowing travelers to enter China without quarantine.. The government has not yet specified when China will resume issuing tourist visas.
"The sudden and chaotic way in which pandemic policies have changed means that growth will be hampered in new ways," Rhodium Group's Daniel H. Rosen, Charlie Vest and Rogan Quinn said in a report. The high number of infections makes it "realistic to expect production to be hampered for a substantial part of 2023".
Forecasters say the economy likely contracted in the last quarter of 2022 as the number of virus cases rose and retail spending and trade fell.
Exports fell after US and European consumer demand was depressed by interest rate hikes. This forces Chinese planners to make up for lost overseas sales by trying to stimulate consumer demand.
"The key to a quick economic recovery" is to "convert income as much as possible into consumption and investment," one of the country's most prominent financial figures, Guo, told state news agency Xinhua. Shuqing, ruling party secretary for the central bank. .
Informal measures show that public and commercial activity is improving but remains weak.
Tube passenger numbers this month in 10 major cities are back to 55-60% of their level a year ago, from 30-35% last month, according to the Macquarie Group. The roads are getting more and more congested.
Foreign companies that see China as a critical market welcome the change but are struggling, said Eric Zheng, president of the American Chamber of Commerce in Shanghai.
"Companies were unprepared for this abrupt change," said Zheng, whose group has about 1,000 member companies. "It's hard to manage a workforce when a lot of people are getting sick."
Still, "things are almost back to normal," Zheng said. "Once life returns to normal and consumers go shopping, things will definitely improve."
Another business group, the American Chamber of Commerce in China, said more than 70% of companies responding to a survey last month expressed confidence that the wave of infection would not last longer than three months. and would end early this year.
The ruling party is trying to spur growth by easing restrictions on housing finance and ending a crackdown on monopolies and data security on tech companies that have driven their stock values ​​down.
In December, regulators announced that Ant Group, an online financial company that was forced to cancel a planned multibillion-dollar public offering in 2020, would be allowed to raise 10.5 billion yuan ( 1.6 billion dollars) for its consumer unit, more than double its Capital.
"These measures are helpful, but far from sufficient to move the needle," Larry Hu and Yuxiao Zhang of Macquarie said in a report.
Hotels, restaurants and other businesses hoping for a boost from this month's Lunar New Year holiday, the busiest tourist season, suffered a blow when some local authorities called on migrant workers to avoid traditional tours in their hometown who could spread infections.
The operator of the 12-room Oriental Hotel in the eastern city of Hefei, who would only give his last name, Huang, said he was losing 4,000 yuan ($550) a month. Its occupancy rate is 20%, well below the 50% needed to break even.
"People are staying home and maybe worried about possible re-infection," Huang said. "If it stays the same for another year, I will give up running the hotel."
The National Health Commission stopped reporting case numbers last month, but reports from city and county governments suggest hundreds of millions of people may have been infected.
Zhengtai Restaurant in the northwest city of Jinzhong closed for two weeks as almost all of its 57 employees were infected, according to manager Chang Zhigang. Chang said the company had lost about 2 million yuan ($300,000) a year since the pandemic began.
"We don't expect the situation to turn around in a short period of time, given that there are very few people on the street," Chang said.
___
AP researcher Yu Bing contributed.