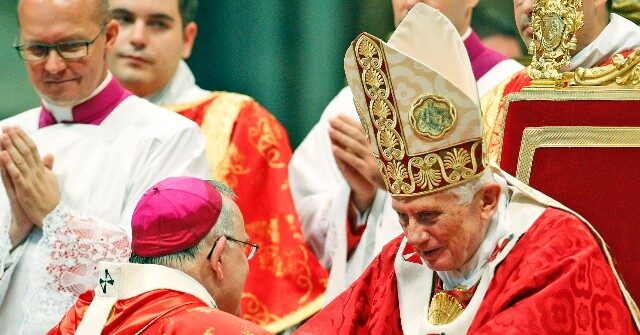 ROME — The consecutive deaths of Pope Benedict XVI and Archbishop George Pell constitute a "very heavy loss" for the Catholic Church, Archbishop Charles Chaput said on Friday.
Although the Church continues its witness because it depends on no one but Jesus Christ, the former Archbishop of Philadelphia told The Pillar, a US-based Catholic media outlet, that their absence is nevertheless "a very heavy loss because both men embodied faithful, Christian intelligence in a remarkable way.
Moreover, the Archbishop continued, no one "in the current leadership of the Church has the capacity to replace them" as "the talent pool at the moment seems quite thin."
In the interview, Chaput also criticized the current pontiff, saying it is clear that Pope Francis "governs like a Jesuit superior general, from top to bottom with little collaboration."
"He also seems to place much more emphasis on his personal discernment than on the discernment of past popes and the general discernment of the Church through the centuries," the Archbishop added.
For example, "some of the changes that have taken place in recent years at the Pontifical Academy for Life and at the John Paul II Institute have been reckless and destructive", he said in reference to the recent overhaul of these two organizations.
"In fact, the whole purpose of the institute that Saint John Paul established has been turned upside down; a clear insult to his magisterium and his legacy," Chaput said.
The Archbishop also expressed concern about the current consultative "synodal path" being adopted in Rome and elsewhere, ostensibly as a means of bringing the laity of the Church into active participation in the direction the Church is taking.
The synodal process is "reckless and subject to manipulation, and manipulation always involves dishonesty," the archbishop said.
"The assertion that Vatican II somehow implied the necessity of synodality as a permanent feature of the life of the Church is simply false," he noted. "The council was never close to suggesting that."
Having been personally active in the 2018 synod, Chaput said "the way 'synodality' was smuggled onto the agenda was manipulative and offensive. It had nothing to do with the theme of the synod on young people and the faith.
"Synodalism risks becoming a kind of Vatican III Lite; a rolling board on a much more controllable and malleable scale. It would not serve the needs of the Church or its people," he added.
"There is no tradition that bishops delegate their personal responsibility for the universal Church to a smaller number of bishops, so any such development should be very carefully considered and discussed before any attempt is made to implement it. work," he said. "It's not the current spirit or the reality of what's going on."