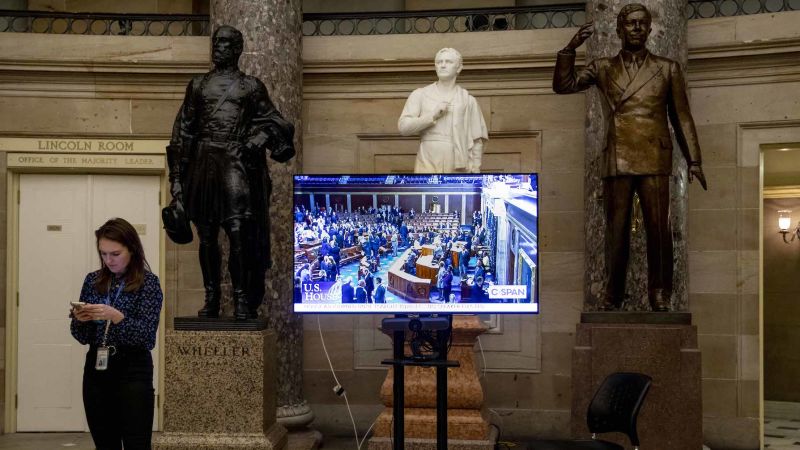 New York
CNN
—

C-SPAN does not pack its cameras quietly.
The Public Affairs Network sent a letter to incoming House Speaker Kevin McCarthy on Tuesday asking for permission to operate its own independent cameras in the House chamber. "Allow C-SPAN to cover House proceedings on behalf of our network and all congressional accredited news organizations," Co-Executive Director Susan Swain wrote to McCarthy.
Typically, the video feed that viewers see on House television as part of its normal day-to-day business is that provided by the government to the press from government-controlled cameras. This is because the House normally prohibits independent media coverage of the proceedings. But during special events, like last week during the election of the Speaker of the House, independent cameras from outlets like C-SPAN are allowed.
A version of this article first appeared in the "Reliable Sources" newsletter. Sign up here to receive the daily digest chronicling the changing media landscape.
Independent coverage translates to more cameras in the Chamber, which translates to more scenes, like the moment a physical altercation almost happened on the floor last week, captured and broadcast in real time at the audience.
"During the presidential election last week, C-SPAN was allowed to bring its own cameras into the bedroom. The public, press and member reaction to C-SPAN coverage – as well as the "transparency" themes in your new rules package – encouraged us to resubmit a request we made to your predecessors without success," Swain wrote in his letter to McCarthy.
"We are not proposing to replace the existing internal registration system or its output. Instead, we're asking to install a few more cameras in the chamber of the Chamber," Swain added. "Mixed with existing House production, our camera shots would allow us to create a second journalistic product, just as we did last week."
A spokesperson for McCarthy did not respond to requests for comment, and a representative for C-SPAN said Tuesday evening that the network had not heard from his office. A spokesman for House Minority Leader Hakeem Jeffries also did not respond to requests for comment.
But other members of Congress have expressed openness or outright support for C-SPAN cameras entering the chamber.
Asked by CNN's Manu Raju on Tuesday night about it, House Majority Leader Steve Scalise replied, "I think that would be great. I think it's great that the public can find out more about how government works. »
Republican Rep. Matt Gaetz, who has certainly benefited from camera exposure over the course of his career, also tabled a measure on Tuesday that would allow C-SPAN cameras to be in the House chamber at all times. "Our fellow Americans deserve to know when we are frustrated with each other, nice with each other, present or absent. The current view of the congressional pool is outdated and boomer-fied," he said. in a statement to CNN's Jake Tapper.
Wisconsin Democratic Rep. Mark Pocan also said he would introduce a similar measure. "The last weeks [C-SPAN] the cover was worthy of an Oscar," Pocan tweeted. "That's why I'm introducing legislation requiring House cameras to continue to capture the entire House and not just what the Speaker wants."
C-SPAN has long called on Congress and other government bodies to grant it access so it can offer the public a front-row seat to the work officials do on their behalf. In fact, the network has an entire web page in which letters requesting such access are displayed. Ben O'Connell, director of editorial operations for C-SPAN, said last week that independent coverage should be allowed, if only as a matter of principle.
"I think it's really important for journalists to be behind the cameras rather than the government behind the cameras," O'Connell said. "We in a typical legislative day have a government entity covering the government. And I think it would be invaluable to have reporters behind the camera instead.