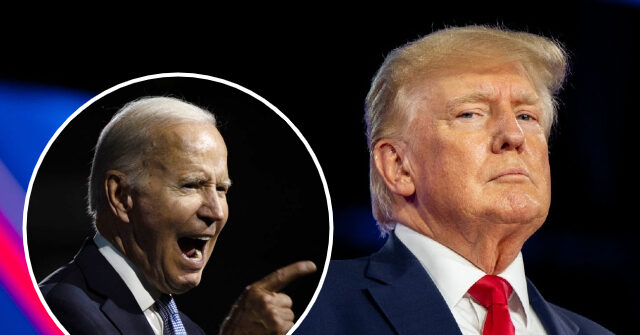 President Joe Biden criticized former President Donald Trump in September 60 minutes as "irresponsible" for allegedly keeping classified documents at Mar-a-Lago.
"How could this happen? Biden responded in the Trump documents interview at Mar-a-Lago. "How could someone be so irresponsible?"
"And I thought, what data was there that could compromise sources and methods?" Biden added:
In September, Joe Biden was questioned about the classified documents at Mar-a-Lago.

He said he didn't know "how anyone could be so irresponsible" and wondered "what data was there that could compromise sources and methods?" pic.twitter.com/jvw8FcBZZj

—Jake Schneider (@jacobkschneider) January 10, 2023
Biden's statement came four months before CBS News reported on Monday that a Biden think tank had stored ten classified documents at the Penn Biden Center for Diplomacy and Global Engagement in Washington:
Attorney General Merrick Garland has instructed the U.S. Attorney in Chicago to review classified documents found at the Penn Biden Center for Diplomacy and Global Engagement in Washington, two sources with knowledge of the investigation told CBS News. The roughly 10 documents come from President Biden's vice presidential office at the center, the sources said. CBS News has learned that the FBI is also involved in the US Attorney's investigation.

The classified material was identified by Mr. Biden's personal attorneys on Nov. 2, just before the midterm elections, confirmed Richard Sauber, the president's special adviser. The documents were discovered when Mr. Biden's personal attorneys were "packing files into a locked closet in preparation to leave the offices of the Penn Biden Center in Washington, DC," Sauber said in a statement to CBS News. The documents were contained in a folder that was in a box with other unclassified papers, the sources said. The sources did not reveal what the classified documents contain or their level of classification. A source familiar told CBS News that the documents did not contain nuclear secrets.

Sauber also said that the same day the material was discovered, Nov. 2, the White House attorney's office notified the National Archives, which took possession of the material the next morning.
Rep. James Comer (R-KY), the top Republican on the Oversight Committee, declared he will send a formal notice to the National Archives on Tuesday to learn more about the alleged mishandling of the documents.
"We asked the National Archives for information when they attacked Mar-A-Largo. And the only response we got was that they referred us to the Department of Justice," Comer said. in a statement, "In the searches we did at the time, each president had accidentally packed documents that may or may not be considered classified, but they were not searched. Now we find that the current president actually accidentally had classified documents.
"Is the White House going to be raided tonight? Will they raid the Biden center? asked Comer. "I don't know. But, you know, that's another concern that there's a two-tier court system within the DOJ with how they treat Republicans versus Democrats.
Other Republicans chimed in on the double standard Comer pointed out.
"Why were classified documents stored at Biden's Chinese-funded think tank? The Department of Justice must appoint a special counsel to investigate," Taylor Budowich, director of MAGA Inc., told Breitbart News.
According to New York Post, anonymous Chinese donations were given to the University of Pennsylvania. The University Center at the University of Pennsylvania is named after Joe Biden.
Donald Trump Jr. tweeted that Trump's handling of documents at Mar-a-Lago was grounds for treason.
"We've been told for months that this is treason…grounds for impeachment…and deserving the death penalty, but I have a feeling nothing will happen!?" he tweeted.
We were told for months that it was
betrayal… grounds for
impeachment… & deserve death
pain, yet I have the impression of nothing
what will happen!?

A U.S. attorney reviewing classified documents from Joe Biden's vice presidency found in the Biden think tank. https://t.co/YUxU2ZvW4R

— Donald Trump Jr. (@DonaldJTrumpJr) January 10, 2023
Follow Wendell Husebo on Twitter @WendellHusebo. He is the author of Politics of slave morality.