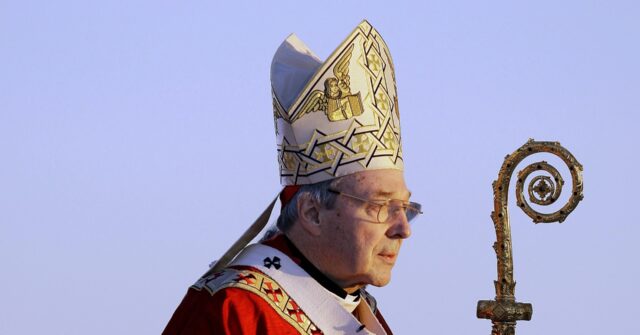 ROME — The indomitable Cardinal George Pell, Australia's top Catholic prelate for decades, died in Rome on Tuesday night at the age of 81.
Cardinal Pell underwent hip replacement surgery in Rome on Tuesday, but suffered cardiac arrest hours later and died of complications from the procedure.
In 2014, Pope Francis appointed Cardinal Pell as the first prefect of the Vatican's Secretariat for the Economy, but his digs into illicit financial operations during his tenure made his presence uncomfortable and he was "gradually marginalized".
Pell's investigations ultimately led to the "financial crimes" trial of former no. 3 man, Cardinal Angelo Becciu, which is still ongoing.
A fearless and persuasive defender of Catholic orthodoxy, Cardinal Pell was falsely accused of sexual abuse and convicted in 2018. He served 404 days in prison, many of them in solitary confinement, before finally being 'fully exonerated' of all the charges by a unanimous judgment. by the Australian High Court in April 2020.
During the period of his imprisonment, Pell wrote a three-volume work titled prison diaryrecounting his prison experiences and his thoughts on many topics.
A controversial figure, Pell was adored by conservatives for his tireless proclamation of Catholic teaching and his common-sense approach to social issues, while hated by the left for seemingly the same reasons.
Former Australian Prime Minister Tony Abbott released a statement after Pell's death, saying the country had "lost a great son and the Church has lost a great leader".
The cardinal was "a committed defender of Catholic orthodoxy and an ardent defender of the virtues of Western civilization," Abbott wrote, adding that he "draws the praise and reproach of all circles expected."
Abbott described Pell's incarceration as a "modern form of crucifixion", which, at least in reputation, was "a kind of living death".
"In dealing so fairly with a monstrous allegation, he strikes me as a saint for our times," Abbott said.
Vale, Cardinal George Pell AC pic.twitter.com/DaSUNso9Lj

— Tony Abbott (@HonTonyAbbott) January 11, 2023
Archbishop of Melbourne Peter Comensoli of Melbourne Express his "great sadness" at the announcement of the cardinal's death.
"Let eternal light be his now, he who believed so firmly in the God of Jesus Christ," he wrote.
"Larger than life, Cardinal Pell was a highly intelligent and cultured man who genuinely cared about everyone around him," wrote Bishop Richard Umbers, Auxiliary Bishop in Sydney, adding that Pell had been a "pioneer" for much good in Sydney and throughout the Church.