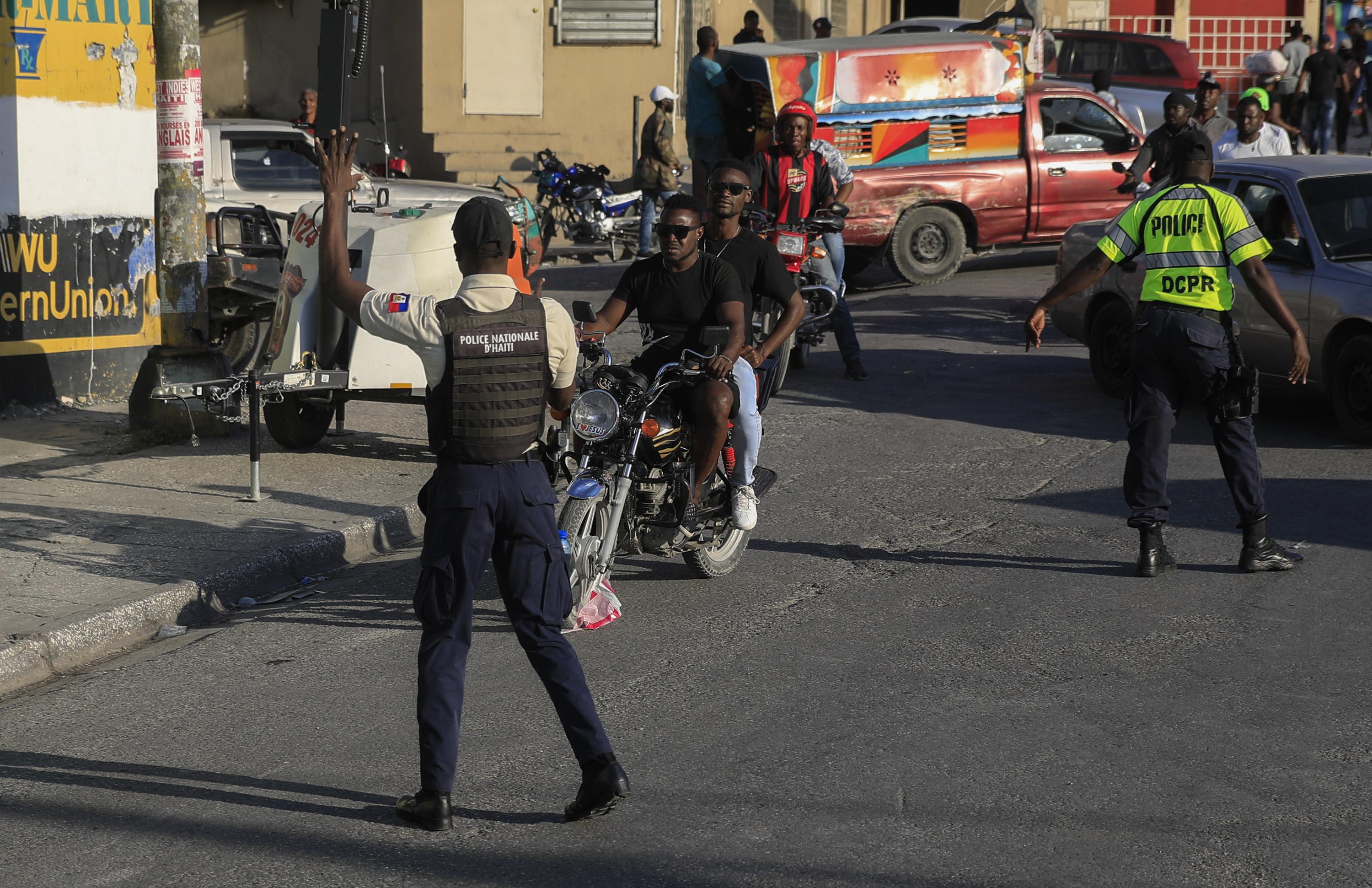 PORT-AU-PRINCE, Haiti (AP) — Every day as Daniel Marie Carmel's husband put on his bulletproof vest and stepped out for another day of fighting Haiti's gangs, she wondered if he would come home. home that night.
Friday was the day her smiling husband of 18, Ricken Staniclasse, didn't.
One of nearly 200 nationwide gangs ambushed his police unit that morning, sending gunfire echoing through the streets of an unexpected neighborhood – a mansion-lined stretch of the country's capital, Port-au-Prince.
A gang led by Lionel Lazarre battled the police patrol in the sweltering Caribbean heat as officers desperately called for backup. But help never came, the country's police union said.
The fighting killed three officers, hospitalized a fourth with gunshot wounds and left Staniclasse, 44, missing.
Carmel, meanwhile, was terrified for herself and their three children.
"My husband was in a lot of fights with the gangs, and we don't know what could happen to us," said Carmel, 43, curled up on her red sofa surrounded by neighbors. "I can't sleep at home anymore because I don't know what could happen to us."
The shooting was just the latest example of how Haitian gangs have grown in power and expanded their reach, leaving much of the population terrorized.
While the United Nations estimates that 60% of Port-au-Prince is controlled by gangs, today most Haitians on the streets believe that figure is closer to 100%.
Haiti has grappled with rampant gang violence for years, but the country descended into anarchy after the 2021 murder of former President Jovenel Moïse.
Powerful gangs have taken advantage of the political chaos and discontent with the current government led by Prime Minister Ariel Henry to further consolidate their control.
The government failed to quell the violence, forcing many people to flee their homes. News of rapes, kidnappings and ambushes against police have become the new normal.
Jolicoeur Allande Serge, director of the police unit that was attacked, said Friday's blitz in the Pétion-Ville neighborhood was a sign of that. He noted that moving to upper-class neighborhoods "benefits (gangs') economic interests".
Kidnappings and ransoms of up to $1 million have been a key part of funding these armed groups.
Meanwhile, police units are struggling to keep up.
While Canada and the United States have sent armored vehicles and other supplies to Haiti, law enforcement officials say that's only a fraction of what they really need.
The tension remained high on Saturday and, in the afternoon, Serge found himself in the middle of a group of armored trucks riddled with bullets. Officers armed with automatic weapons, their faces covered in black masks, were busy.
A group of 50 officers were returning to the area where they fought Friday night in an attempt to break through a gang blockade and search for the missing officer, Staniclasse.
"I lost three men… We are not afraid. We are frustrated because we don't have enough equipment to fight," Serge said as he watched a convoy of police trucks drive out of the police station. "We need ammunition, helmets, armored vehicles."
Analysts expect the bloodshed to worsen, particularly after Haiti's last 10 elected officials ended their terms in the Senate in early January, leaving parliament and the presidency vacant because the government did not hold elections.
Critics say this has turned Haiti into a "de facto dictatorship".
Meanwhile, people like Daniel Marie Carmel feel a loss of hope for their country. Carmel said her husband always hoped he could help clean up his town. Together they built a home and a life together. Their 11-year-old son dreamed of following in his father's footsteps.
"He loved people, he loved helping people," she said of her husband.
But two years ago, the violence started to get so bad in their neighborhood that they applied for a visa to emigrate to the United States, hoping to join an exodus of people leaving Haiti. They never got an answer.
"I don't know if he's alive or dead, but I'm worried," she said. "If we could leave the country, my husband would be alive.