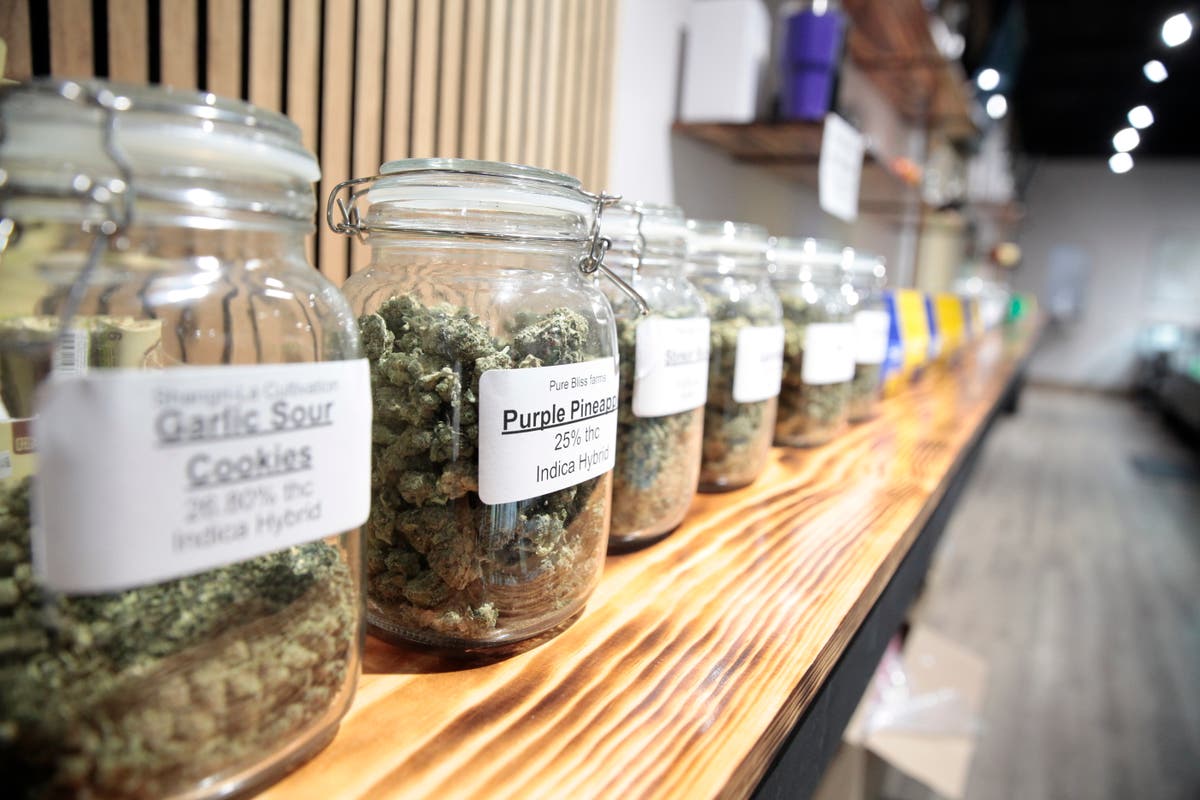 An Arizona mother who was placed on a child abuse registry for using medical marijuana has won a three-year court battle.
Lindsay Ridgell learned in 2019 that she was a neglectful parent due to her medical marijuana use during her pregnancy, despite being described as the drug for 10 years, Jezebel reported.
During her pregnancy, she battled hyperemesis gravidarum, which results in "extreme and persistent nausea and vomiting," the Cleveland Clinic states on its site.
Medical marijuana helped her cope with the disease. The state of Arizona legalized medical marijuana over 10 years ago and recreational use was made legal in 2021.
But less than a month after the birth of her child, the expectant mother was fired from her job with the state Department of Child Safety (DCS) and placed on the child abuse registry.
The child had stopped breathing for a short time but was resuscitated. He later tested positive for marijuana.
Ms Ridgell's son was discharged from hospital a week after birth and doctors said he is not expected to have 'lasting symptoms', the mother said. Jezebel.
But Ms Ridgell was still blacklisted for child abuse by the Arizona child welfare system, prompting several court battles.
"I was on edge," she told the outlet. "Every two months, every year, I received bad news, but we appealed."
The case went all the way to the state Supreme Court, which denied DCS's appeal to reconsider the case, allowing a lower court's ruling in favor of Ms Ridgell to stand.
His lawyer, Julie Gunnigle, said Jezebel that "she has been terrorized by this agency for four years. It was a constant threat. His income has been drastically reduced."
" She is happy. It will mean so much to his family," she added.
Ms. Gunnigle is the legal director of Arizona NORML, which works to "move public opinion enough to legalize the responsible use of marijuana by adults, and advocate for consumers to ensure that they have access to safe, high-quality marijuana." , convenient and affordable.
Mrs Ridgell said Jezebel that she didn't tell anyone at work that she was using drugs and that she tried to quit using medical marijuana "a few times, but I never could." I would be really sick".
"I was nauseous all the time. I could barely hold anything," she added.
In November 2018, she received her diagnosis of hyperemesis gravidarum, when she was hospitalized for the first of two times.
"Ridgell renewed her medical marijuana card in late December 2018, indicating to the certifying physician that she was pregnant," the notice from an appeals court read. "The certifying doctor, Kim Muhammad, identified 'chronic nausea [due to] slow gastric emptying" as Ridgell's "debilitating medical condition".
The state's Child Abuse Reporting Act required Dr. Muhammad to warn Ms. Ridgell "that use of marijuana during pregnancy could risk being reported to the Department during pregnancy or at birth by persons required to to report it".
The notice states that the doctor said that "in [my] professional opinion [I] believe that the eligible patient is likely to receive therapeutic or palliative benefit from … the use of marijuana to treat or alleviate the eligible patient's debilitating medical condition".
Ms Ridgell worked with DCS during her pregnancy, helping families struggling to keep their children at home.
"I wanted to be a good person in a system that I heard so much [many] bad things," Ms Ridgell said Jezebel.
After giving birth, DCS demanded that she undergo these same home services.
Advocacy organization Pregnancy Justice argues there is 'no scientific basis' that fetuses can be harmed by marijuana while the American College of Obstetricians and Gynecologists says pregnant women should not use the drug .
The appeals court wrote that under the Arizona Medical Marijuana Act, an "eligible patient" is "presumed to be 'engaged in the medical use of marijuana' if the patient has a medical marijuana registration card and a permitted amount of marijuana".
"Whether any of Ridgell's other doctors knew that she was taking medical marijuana for her chronic nausea – and any dispute about it – is irrelevant," the court added.
A different court ruling means Ms Ridgell could remain on the child abuse blacklist used for background investigations in her field, forcing her to change careers.
With a new job in a new town, she said Jezebel that the scariest thing is the possibility of getting pregnant again.
"Besides the terrible experience of being pregnant, I don't want another trial," she said.
When reached by The Independentthe Arizona DCS declined to comment.