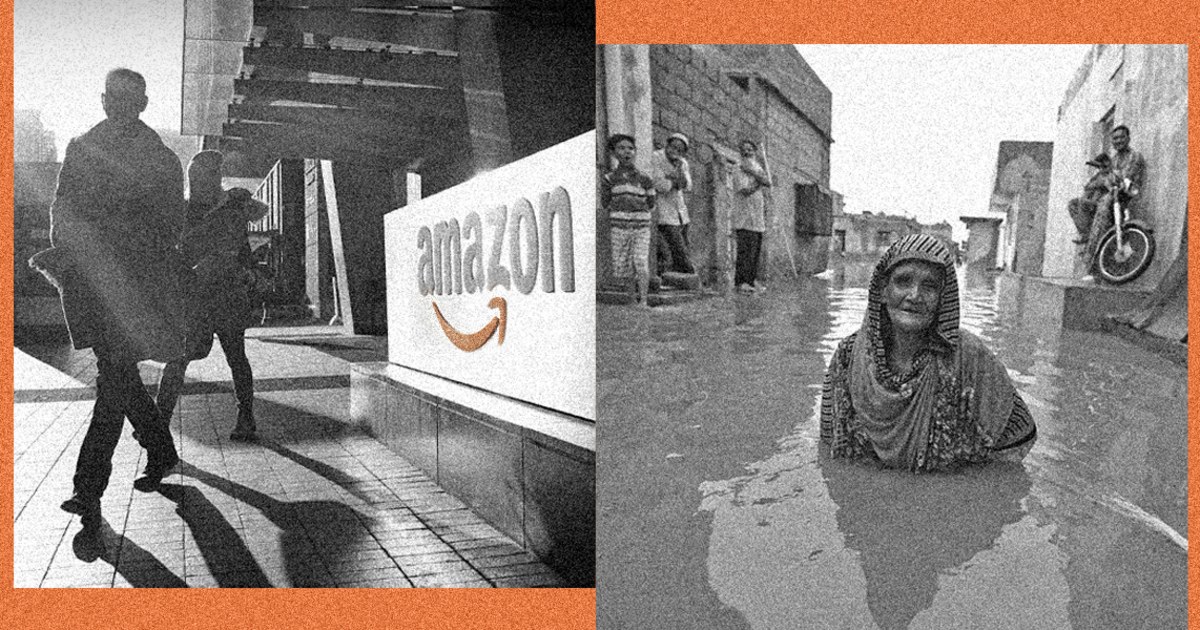 More than 800 Amazon employees are calling on the company to step up its response to climate change through foreign aid – a sign that internal activism is still alive at tech companies despite layoffs and an economic downturn imminent.
Employees say the aid is a way for Amazon to take greater responsibility for its role in producing the greenhouse gas emissions that cause climate change.
In a petition posted on an internal system, workers are calling on Amazon to help with 'reparations' for Pakistan, which suffered devastating floods last summer and fall, by matching employee donations to relief efforts , according to screenshots provided to NBC News. They also want the company to match employee donations in future climate-related disasters.
"With Amazon's success and scale comes great responsibility," the petition reads. "As Amazonians, we are proud to uphold our principles of leadership, and in that spirit, we owe it to our people, our customers, and the planet we live on to mitigate the damage caused by our operations."
The petition was started by Amazon Employees for Climate Justice, a group of workers who have pushed the company on climate issues for years. Scientists said the floods that killed more than 1,700 people and displaced millions in Pakistan were much more likely to happen due to climate change.
Amazon created a disaster relief portal in 2017 that allows employees and the company to work together to send supplies to areas affected by climate change and other disasters, and it has donated 200,000 $ to relief organizations in Pakistan since the floods, according to spokesman Patrick Malone.
The company did not comment directly on the petition. Malone said in a statement that "Amazon responded to more than 100 events worldwide and donated more than $20 million in goods, funding and other services to nonprofits operating on the ground."
Following previous employee actions regarding climate change, the company has committed to achieving net zero carbon emissions by 2040.
Despite commitment, emissions are rising
But the workers noted in their petition that the company's latest disclosures showed its carbon emissions increased by 40% in 2021 compared to 2019, the year the company announced its climate pledge.
The petition is part of a growing global movement demanding that wealthy countries and corporations recognize their contributions to the climate crisis and the disproportionate effects of climate change on regions of the world that produce fewer emissions.
And it's attracting some Amazon workers who weren't previously involved in workplace activism. The effort was sparked in part by the group's Pakistani employees whose families back home were affected by the floods. They say the company has an obligation to do more, given both its role in climate emissions and the population of Pakistani workers it employs in the United States, many of whom are on visas. H1B.
A Pakistani employee from the East Coast said she had given a lot of thought to the idea of ​​getting involved as she feared for her job in an uncertain economic climate. Amazon recently announced the layoff of some 18,000 workers, join other tech luminaries like Meta, Salesforce, and Lyft in downsizing. She ultimately decided the modest action was worth the risk, although she asked that her name not be used, fearing retaliation for publicly criticizing the company.
"Amazon is one of the biggest logistics companies and uses tons of fossil fuels," the worker said. "He was not proactive enough. Amazon has a responsibility, like all big companies in the United States and Europe.
A controversial story
Amazon has faced internal climate change activism before, sometimes aggressively.
The company fired two of the founders of Amazon Employees for Climate Justice, Emily Cunningham and Maren Costa, after the group hosted a virtual event for the company's technical employees to talk to its warehouse workers about climate change issues. safety related to covid at the beginning of 2020. Tim Bray, a prominent engineer and vice president of the company, resigned in protest at the dismissals, as well as that of organizer Chris Smalls.
Previously, Amazon Employees for Climate Justice helped organize letter-writing campaigns, protests and a strike to pressure the company on climate issues, demanding that Amazon achieve zero emissions by 2030, prevent its split of cloud services to do business with the oil and gas industry, and stop donating to politicians who deny climate change. A letter received 8,700 signatures from Amazon employees.
The NLRB found the workers' complaints that they had been fired in retaliation to be valid, and Amazon eventually settled with the employees out of court.
"It definitely had an effect on people," said Eliza Pan, a former company program manager who left in 2019 to work on climate change issues but is still involved with Amazon Employees for Climate. Justice. "The effect was that people were more careful and cautious, but that didn't scare them completely."
Amazon has stepped up its work on climate change, the release of a Climate Pledge on the eve of an employee walkout in 2019 that promised to have net zero emissions by 2040.
These efforts include transitioning part of its fleet from gas-powered vehicles to electric vehicles and committing $100 million to reforestation funds. More than 350 other companies have since signed the pledge.
Tensie Whelan, director of the Center for Sustainable Business at New York University's business school, said this type of activism will continue to grow in companies as Millennials and Generation Z continue to form a larger sector of the workforce.
"We're not asking Amazon to do anything super extreme," said an Amazon developer in Seattle who also spoke to NBC News on the condition that his name not be used for fear of retaliation for being released. "What we ask them to do first is something we are prepared to do."