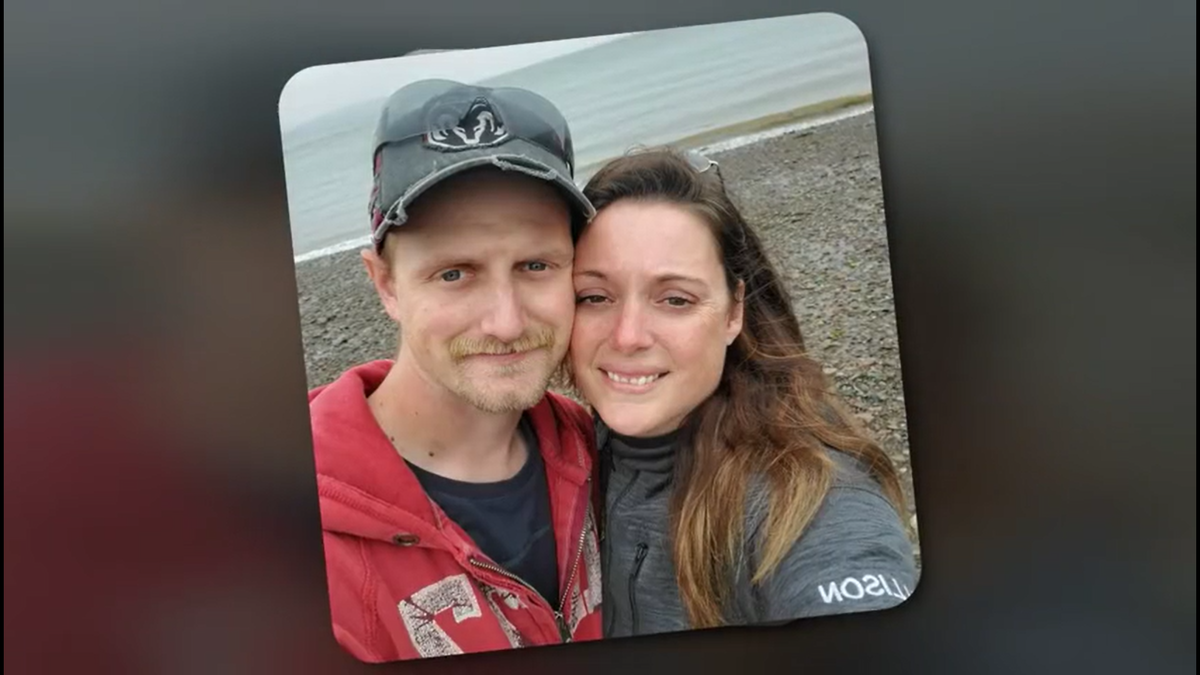 A woman in Canada has died after waiting nearly seven hours for emergency treatment at a hospital on New Year's Eve in what has been described as a 'senseless death'.
Allison Holthoff, 37, from the province of Nova Scotia, was rushed to the emergency room on the morning of December 31 after her condition worsened from what was initially believed to be aches and pains. 'stomach.
Her husband, Gunter Holthoff, told CBS News she had to be carried on her back to reach the Cumberland Regional Health Care Center in the Nova Scotia town of Amherst at 11 a.m. local time before spend hours in the waiting room.
"She was obviously in pain," he said Sunday, recalling his wife's excruciating pain and their ordeal. "I wheeled her around in the wheelchair and she could barely sit up."
Ms Holthoff's pain worsened as the two waited more than six hours in the emergency department waiting room. They weren't able to see a doctor until after 6 p.m., he said.
By then, the doctor said, it was already too late. She underwent a preliminary examination and the nurse requested her urine sample.
Ms Holthoff then fell to the bathroom floor as she was unable to stand on her own and needed the help of two other people to get back into her wheelchair.
Her condition deteriorated to the point that she could not sit in the wheelchair and ended up lying on the floor, he said.
"I told the nurses and the lady in the office a number of times, 'It's getting worse,' and nothing happened," Mr Holthoff said. "So the security guards, over time, they pulled out some blankets and they brought us a cup of water and I used that to put ice on his lips."
As they continued to wait, Mrs. Holthoff told her husband that she felt she was dying.
"I think she actually started saying she thought she was dying in the waiting room outside," Gunter continued. "She said, 'I think I'm dying. Don't let me die here'."
His wife was then taken to a room with a bed, but no medical equipment. A nurse checked her blood pressure and found it alarming.
She then received more urgent care and a doctor came to see her. An x-ray was prepared, but she was unable to breathe.
"The next thing is [her] the eyes rolled in his head and his chest began to heave. Something started to beep," he said. "The next thing you hear is on the PA, 'code blue, code blue in the x-rays.'"
"Even though she would have survived that moment… she went too long without sufficient blood flow to her brain and vital organs. It wouldn't have been a life worth living," he said.
Mr Holthoff said the system was 'obviously flawed' and 'we need change' because 'I don't want anyone else going through this'.
Elizabeth Smith-McCrossin, a local MP, wrote a letter to the provincial health minister demanding an "urgent investigation" into the case.
Alexandra Rose, provincial coordinator for the Nova Scotia Health Coalition, said the situation is frightening and the province's health care system is in a "disastrous situation."
"It's so scary. And we have to ask ourselves, when is the breaking point? Is this the breaking point now that someone is dead? It was a senseless death," she said.