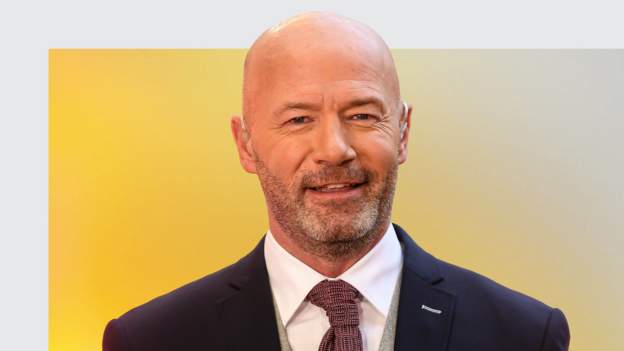 Arsenal must be favorites to win the Premier League now. It's very clear that they're going to take some changes from the top of the table.
The only thing we don't know about Mikel Arteta's side yet is how they will handle being the leaders in the second half of the season. But it doesn't seem like their inexperience in a title chase is bothering them at the moment.
Their stunning win over north London rivals Tottenham Sunday was further proof of that.
In the first half we saw their attacking intent and creativity, pressing Spurs to keep them in their own half and then capitalizing on their mistakes.
Arsenal had more defending to do in the second half, but they were just as good off the ball and when Spurs got it, Aaron Ramsdale put in a brilliant goalkeeping performance to keep them out.
I've been really impressed with their entire team, front to back, and it looks like they've got the steel – plus the bit of bite and hunger – that they'll need in the next few months.
Arteta seems ready for anything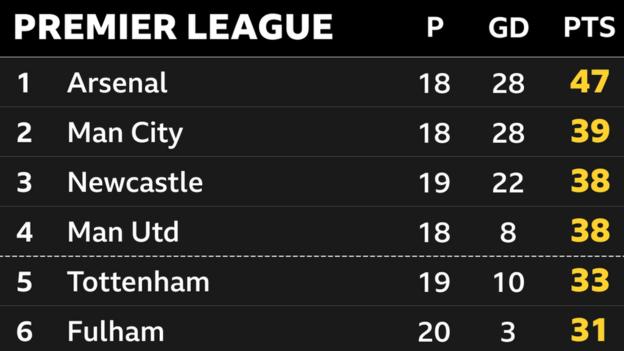 Being eight points clear after 18 games is a tremendous achievement for this Arsenal side – and it's also fully deserved.
Now they have to try to stay there, and many of their players have already learned the hard way how quickly things can change. They fell in the final weeks of last season, missing out on a top-four finish and a Champions League return when it was within their reach.
But since the start of this campaign, I say it looks like a different Gunners team in terms of mentality, and Arteta and his coaching staff also have another year of experience.
Arteta has assembled a talented team, with a great attitude and they seem very comfortable with what he wants them to do.
In addition to their great will to win, they are strong in all positions and they have dealt with all the injuries they have suffered, including Gabriel Jesus who was so important to them at the start of the season, but who did not has played the most since the World Cup. . Eddie Nketiah led the line so well it meant Jesus was not missed.
Tactically, it looks like Arteta is also ready for anything. He certainly overtook Spurs boss Antonio Conte with his gameplan on Sunday, especially in the first half when it looked like Arsenal had an extra man in every area of ​​the pitch.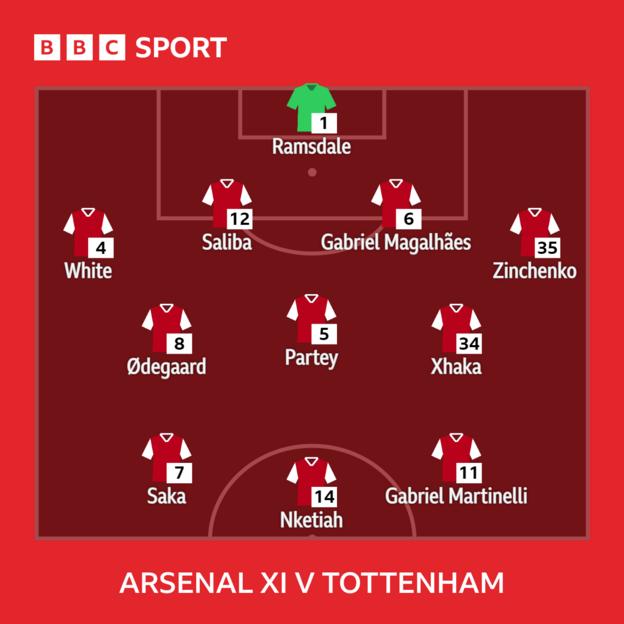 Of course, there are still huge hurdles to overcome: they still have to play Manchester City twice and, before that, they will face a rising Manchester United side next weekend.
But every game is important when you're on top and at the moment they look really strong no matter who they play. They are clearly full of confidence and right now it looks like they are going to be hard to stop.
Can Man Utd be part of the title race?
The whole weekend has gone very well for Arsenal – it always helps when things go wrong for your nearest rivals, as was the case for City with their Manchester derby defeat on Saturday.
The defending champions were unfortunate with United's equalizer via Marcus Rashford, which I think should have been ruled offside, and that goal changed the game completely.
I still can't see City giving up their title without a fight, and they're not the only ones who can still challenge Arsenal from here.
I understand why people are talking about Manchester United again because they are flying right now, on a great run of results, and Erik ten Hag has made incredible progress with his team in a short time.
At the moment you can't rule out United as they will go to the Emirates Stadium next Sunday. Win that one, and you'd have to say they're on the hunt but, on the other hand, if Arsenal turn them over, their title hopes are well and truly over.
Like Manchester United, Newcastle are only a point behind City, but having played one game more.
However, I wouldn't count Newcastle among the title contenders. In fact, I still think it would be a miracle if they finished in the top four, despite the problems faced by some teams just below them.
Tottenham's defeat on Sunday was good news for Eddie Howe's side as Spurs are in that chasing pack and they remain a threat. We saw how they ended last season to deny Arsenal a Champions League spot.
I also suspect Chelsea will improve after their bad spell over the past few weeks as their players return from injury, but Liverpool look miles away from it at the moment.
At the moment, Jurgen Klopp's side are terrible at the back, with no intensity when pressing.
They look like the shadow of the side we're used to seeing at the top of the table, and I don't see things improving anytime soon – it's going to be a tough long season for them.
I'd rather Newcastle win a cup than finish in the top four
Newcastle fans are going through a very different time at the moment, of course, and I'm enjoying every minute of it.
Howe is doing a brilliant job and he picked up another big result this weekend, with their late win over Fulham.
It was a bit flat from the start – from the players and even the fans – which was understandable after the excitement of the midweek win over Leicester that put Newcastle through to the Cup semi-finals. Carabao.
Newcastle didn't play well on Sunday and needed a bit of luck with Aleksandar Mitrovic's penalty miss, but it was all about getting the three points and it didn't matter how they got them.
To finish in the Champions League places would be absolutely fantastic, but it's the luck of the silverware that matters most to me.
My dream for this season would be a trophy – I would much prefer the Carabao Cup to the top four.
I'd love to see both happen, obviously, but give me the choice and I'll go get silverware all day. It's much more important to me.
Newcastle's last trophy was the Fairs Cup – the tournament that eventually evolved into the Europa League – in 1969.
It was before I was born, so it was a very long wait to see us win something. I hope it's over soon.
Alan Shearer was talking to BBC Sport's Chris Bevan.


Our coverage of your Premier League club is bigger and better than ever – here's

all you need to know

to make sure you never miss a moment