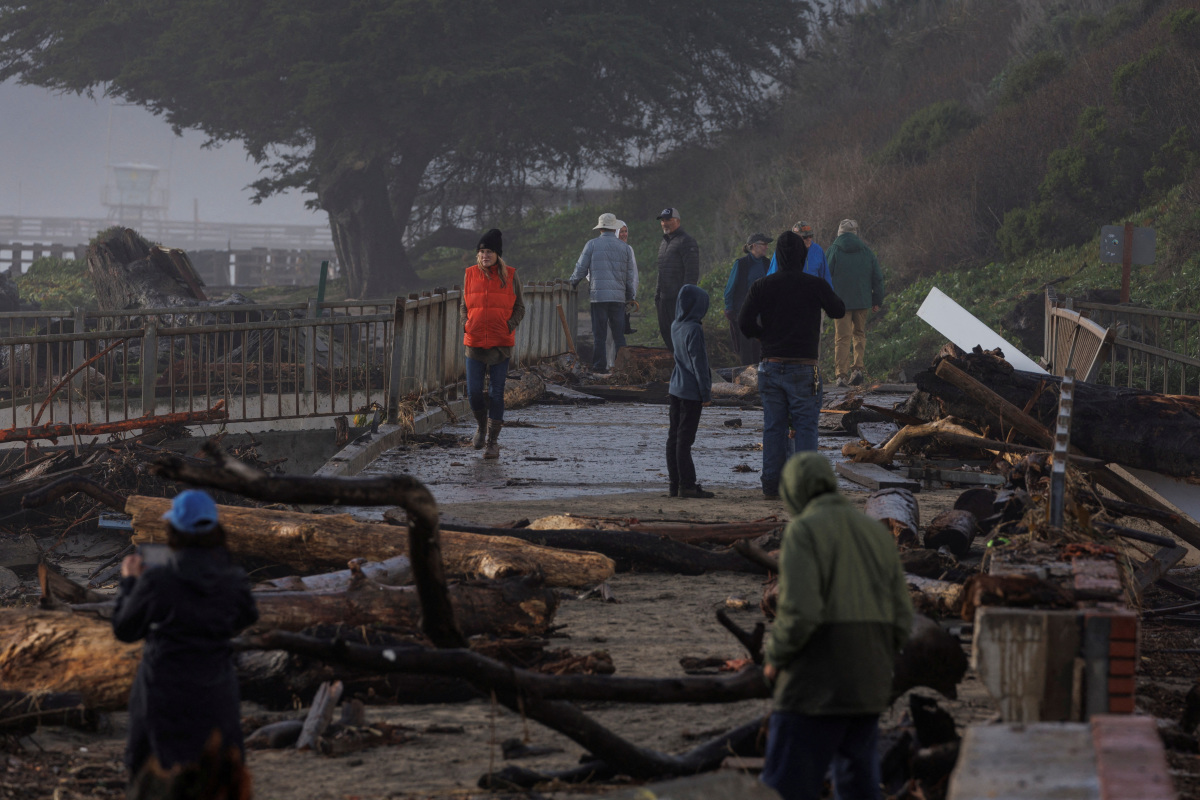 KEY POINTS
Heavy rain will continue to fall in northern California before the series of storms arrives
Heavy snowfall will also bring up to five feet of snow through Tuesday
Several flood warnings were issued ahead of the weekend storm
Three low-pressure systems are heading to the west coast starting Saturday, with heavy rains expected to focus on flood-engulfed California. The state has suffered from a series of atmospheric rivers that have brought heavy rains and flooding over the past two weeks.
"A series of three low-pressure systems are expected to impact the West Coast" from Jan. 14-18, the National Weather Service's Weather Prediction Center said in a medium-term risk outlook report released Wednesday.
During the said period, heavy rains will "concentrate over California" before moving into the Pacific Northwest early next week. "Heavy rain will be a possibility each day of the period in Northern California, which could lead to significant flooding issues, the agency noted.
In the higher elevations of the Sierra Nevada and the Southern Cascades, heavy snowfall is expected throughout the said period.
Ahead of the weekend storms, heavy rain will continue to fall over parts of northern California on Friday evening, the WPC said in a short-term forecast discussion report Wednesday.
"The associated heavy rains will mainly create localized areas of flash flooding, with urban areas, roads, small streams and scorching being the most vulnerable," the report warned.
The first round of heavy rain on Friday is expected to arrive around 5 a.m., the NWS in the Bay Area said. Another round will hit the state on Saturday morning, followed by more rain on Sunday.
Along with the three systems to enter the West Coast over the weekend, heavy snowfall is also expected Friday afternoon through Tuesday afternoon in California, the NWS in Sacramento said.
Up to five feet of snow is possible during said period, along with wind gusts of up to 50 mph. Winter weather conditions are expected to cause significant travel delays and a significant reduction in visibility.
California has been hit with heavy rains since Dec. 26, with several regions seeing unprecedented amounts of precipitation. In particular, downtown San Francisco recorded an astonishing 13.6 inches (34.5 cm) of rain from December 26 through Wednesday.
So far, only a few flood-related watches have been issued for weekend storms, but weather officials have urged residents to stay informed if new alerts are issued during the rainy season.
Vigilance in effect until Sunday noon:
Humboldt North Shore – River Eel at Fernbridge (river expected to reach flood level near 20ft Sunday morning)
Vigilance in effect until 6 p.m. Sunday:
Mendocino Southwest Interior – Navarro River in Navarro (River is expected to reach flood stage of 23 feet by late Saturday evening)
Vigilance in effect until 10 p.m. Sunday:
Motherlode, Mountains of southwestern Shasta County west of Colusa County, Sacramento Valley, Lassen Park, Northeastern Foothills, western Plumas County
Flood advisory in effect until further notice:
Monterey – Salinas River near Spreckels (the river is expected to exceed flood stage 23 feet to 26 feet by Friday afternoon)
Flood advisory in effect until further notice:
Sonoma – Mark West Creek, Santa Rosa Creek, Laguna de Santa Rosa, Green Valley Creek, and other tributaries feeding the Russian River
Flood advisory in effect until further notice:
High Surf Advisory in effect until 10:00 a.m. Saturday:
San Francisco Peninsula Coast, North Bay Coast including Point Reyes National Seashore, Big Sur Coast, North and South Monterey Bay and San Francisco (large breaking waves up to 20 feet possible)